Scherquist tumbles into senior year
Music blaring, crowd cheering, three deep breaths. Senior Kelly Scherquist runs across the field and lands a handspring into a back tuck. Flip after flip her tumbling passes have been a fixture in the cheerleading team performances for the past four years.
Scherquist is a side base on the DGS varsity cheerleading team. She has been on varsity all four years of high school and has won over 10 championships with her all-star team, Halo. With 10 years of gymnastics and six years of cheerleading behind her, Scherquist hopes to improve even more as her senior year continues.
"I started [cheerleading] when I was in seventh grade, and I cheered for the Downers Grove Panthers, which is a junior football team," Scherquist said. "I did gymnastics for 10 years and then I got tired of it, so I wanted to try something new."
Scherquist loved the tumbling aspect of gymnastics and wanted to take her acquired skills even further. Soon after, mother Gail Scherquist found a cheerleading program for her.
"I was excited that she was trying a new sport," Gail Scherquist said. "I thought it would be fun for her."
When she was a freshman, Scherquist was put on the varsity cheerleading team due to her already advanced ability. Cheerleading coach Shannon Lahey was there to watch her grow over the last four years.
"…when she came to us as a freshman, she was very talented," Lahey said. "She's always been a fantastic gymnast and tumbler and even though those skills have evolved and changed a little bit, I've seen more of a growth within her own cheer skills. Also with her being a leader, really stepping up and voicing her opinions and constructive criticism."
"
She's really come into her own, found her voice, and overall she just keeps improving every year,"
— Shannon Lahey
Lahey also believes that Scherquist is as advanced as she is because she's on an all-star team outside of school. Being on both cheerleading teams provides Scherquist with extra practice to work on her craft.
"I think the combination of both her game time cheer skills that she gets from us for football season and then her competitive skills that she gets from the all-star team is really allowing her to be a well-rounded athlete," Lahey said.
Scherquist has many people on her team who look up to her not only as a teammate, but as a leader. Fellow cheerleader Hailey Lloyd is one of the many people who said they admire her work ethic and drive.
"Kelly always knows how to cheer people up, and she's such a good role model for the team," Lloyd said.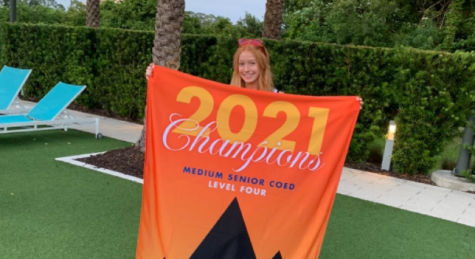 After high school, Scherquist hopes to continue cheerleading. She also has significant goals for the future that revolve around her passion for cheer.
"…if it's a possibility, I would also want to coach [cheer] in the near future and maybe own my own gym," Scherquist said.
Leave a Comment