District 99 to implement weekly COVID-19 surveillance for all in-person students and staff
More stories from Annie Le
On Jan. 25, the school board approved a plan to implement weekly COVID-19 saliva tests for all in-person students. This testing, not to be used for diagnoses, would begin in mid-February and identify those with significant viral loads present in samples.
The saliva testing is a process that screens for a significant viral load present in samples provided by students and staff and will continue through the end of the school year. In-person students will receive the saliva testing kits and must bring their samples to school for testing. Associate Superintendent Gina Ziccardi highlighted measures that must be taken by students in order to ensure reliable test results which will come within 24 hours.
"Students cannot eat or drink before they can give their sample. That is a requirement of it, but it doesn't have to be refrigerated. They'll have a vial, they'll put that vial in a little envelope and they'll bring it to school with them," Ziccardi said.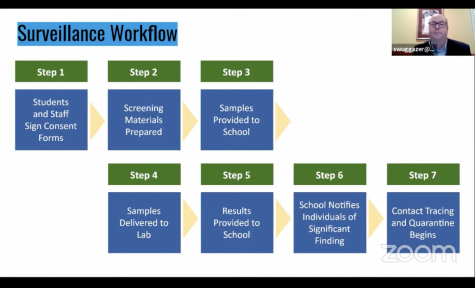 While the testing does screen specifically for the COVID-19 genetic makeup, it will not be used as a diagnosis, but rather as a grounds for good reason to get an actual COVID-19 polymerase chain reaction (PCR) test, as explained by Associate Superintendent Scott Wuggazer.
"It's important to note that the surveillance is non-diagnostic, so we are not getting a positive or negative [COVID-19] result from it … we're getting a significant viral finding and we're going to be making recommendations to the families to go contact their doctors and get the PCR test," Wuggazer said.
Protocol requires that all students showing symptoms must stay home; however, there has been continued doubt as to whether this is effective against those who are asymptomatic. Wuggazer affirmed that the COVID-19 surveillance is in place in order to help screen asymptomatic students above all.
"The purpose of the screening or surveillance is to do some early identification. So really it's looking at the asymptomatic students, not those that are coming down that are in-person that are showing signs of symptoms," Wuggazer said.
Students' families will not be required to cover the COVID-19 surveillance costs. However, with each kit costing $11, the weekly saliva testing planned to remain in place through the end of the school year is set to cost District 99 between $500,000-$600,000.
Superintendent Dr. Hank Thiele discussed concerns on where the funding for the surveillance will come from.
"We know we have about $1 million coming in additional federal funding to help offset [COVID-19] costs, so that's what we would draw from for the $600,000 and for any costs we have related to vaccination … We've also been led to believe that there will be another round of school funding that is directly tailored to helping schools increase testing, but that's wishful thinking at this point," Thiele said.
Along with the saliva testing to be put in place, a vaccination plan for all District 99 staff and partner elementary school employees is in development. Thiele provided insight on a timeline for the execution of immunizations.
"[Vaccinations] would be for all of our school employees and all of our elementary partner school employees. We're at the point where we're chasing down several leads between health and wellness companies and pharmacies to try to put together a vaccination program. We believe that within the next week we will be able to finalize with a provider," Thiele said.
While District 99 is increasing measures to prevent COVID-19, Ziccardi spoke on the importance of maintaining all preventative practices already in place.
"Saliva testing will not replace any of the measures we have put into place thus far, but rather complement it. We still need to have students and staff socially distanced, we still need to have everyone wearing personal protective equipment — masks and shields and whatnot," Ziccardi said.
Students that are in-person may attend remotely rather than in-person or may opt out fully at any time. To see the full plan click here.
UPDATE:
Test kits will be sent home with students on Feb. 9. Look for them in your third period class.
Leave a Comment