Mask on: we need to wear a mask in the drive-thru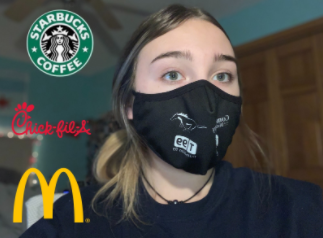 We all love to get our quarantine treats, whether it's a sweet-cream cold brew from Starbucks or a chicken nugget meal from McDonald's. These stores have mask mandates when you walk inside their stores, but what about in the drive-thru? There seems to be no requirement in place.
According to the CDC, on June 15 Illinois had 528 COVID-19 cases. On Nov. 13, there was a spike up to 15,223 cases in Illinois. This rise shows that we can't be letting our guard down, even when we think the pandemic is getting better. We cannot be doing the bare minimum in times where we need to give our all.
This means that we shouldn't be going through the drive-thru without a mask. Some people may argue that we don't need to wear a mask since we're in a car; however, there is no guarantee that us and the drive-thru worker will be six feet apart.
The truth is– COVID-19 is only getting worse in Illinois right now. As of Dec. 8, there is a 9,994.9 daily average of new COVID cases in Illinois. That is way too high of a number to be acting like the pandemic is over.
Frontline and essential workers wear masks for their entire shifts, so there's no reason why we can't wear masks for five minutes in a drive-thru. Although the workers are wearing masks, the safest way to interact with them is by us wearing a mask as well.
There's simple science behind why masks work. COVID is spread through respiratory droplets that can be transmitted through human interaction, and could very well happen in a drive-thru. We can't predict if a worker will have their mask on all the way, so it's best to be prepared for their safety and ours.
If we think about our communities and family, there's a very good chance that we know somebody that's had COVID-19. There's even people whose family or friends have died from the virus. It's heartbreaking.
Of course we want more than ever for life to go back to normal, nobody is arguing that. However, until we all start acting responsibly, that won't be a possibility. If we want to start a change right now, we can all begin wearing masks in the drive-thru– it's simple as that.
Getting in the habit of wearing our masks is the easiest way to help combat the virus. Obviously, staying home is the best way to avoid spreading the virus, but we have to realize that going out comes with the responsibility of keeping everyone safe.
This goes for picking up orders curb-side as well. Most of the time, us and the worker will be less than six feet apart during the hand off. Thinking about their family's we might be endangering– it's not acceptable.
It's a privilege that we have workers that are willing to risk their lives so we can have luxuries like fast food and shopping at our favorite stores. Let's not take advantage of that. With COVID-19 cases rising in the state of Illinois, doing our part is far from over.