The 17 year-old in scrubs: Lestin Kandakudy finds a place in nursing
More stories from Annie Le
Senior Lestin Kandakudy sets down his pencil and closes the cover of the AP biology textbook on his desk. He looks at the clock — it's time. He puts on his scrubs, clips on his nursing ID tag and is off to work.
Since Aug. 2020, Kandakudy has worked as a certified nursing assistant (CNA) at Alden of Waterford Rehabilitation and Health Care Center. For Kandakudy, his work as a CNA has turned into another one of his obligations and has become an integral part of his current life. But what is a career goal for many CNAs is actually a stepping stone in Kandakudy's long-term goal in the practice of medicine.
"Most CNAs are in their 30s or early 40s. Currently, I am the youngest member of the nursing staff at the place I work at," Kandakudy said.
Kandakudy recognized that, as a student with a schedule made up almost entirely of honors and AP courses, becoming a CNA would not be an easy task. The decision to go through with the extra education and certification required deliberation.
"I had many doubts regarding becoming a CNA. I take 5 AP classes, participate in school activities and have family obligations to fulfill," Kandakudy said.
Family members shared in his concern as well. His mother Tressy Kandakudy, who works as a nurse, expressed a similar sentiment and discussed several points of contention that presented themselves as she helped her son in making a choice.
"I was worried that his grades would drop or that he couldn't finish his college [applications] on time. I'm a nurse, so I know the pressure of working in medicine; it is physically demanding, very stressful and there is no time for yourself in most cases. I love medicine, but I feared that Lestin wouldn't be able to manage both because it's hard for me to manage my home responsibilities and my job at the same time," Tressy Kandakudy said.
Despite the potential challenges, Kandakudy determined that his affinity for the medical sciences was the largest factor to consider. Ultimately, Kandakudy decided that becoming a CNA was worth the additional labor in order to brighten his prospects for the future.
"Since I could remember, I knew that I wanted to become a medical doctor. I aspire to uncover medical mysteries and diversity in the field of medicine. But I wanted to be sure that working with patients, monitoring vitals, charting medical information and taking care of those who need it would bring me joy," Kandakudy said.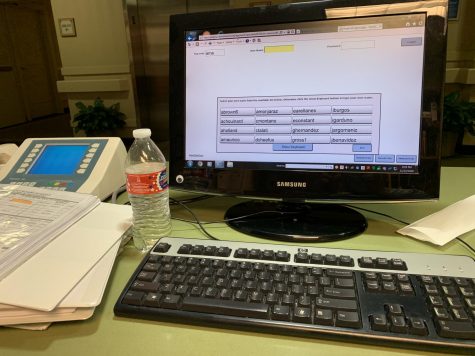 But Kandakudy's love for medicine isn't present in a vacuum, and his desire to build his knowledge in all of the sciences is fully present both in and out of the classroom. Chemistry teacher Jennifer Fischer recalls her time as Kandakudy's AP chemistry teacher during his junior year, highlighting the work ethic that was made obvious as the school year progressed.
"[Kandakudy's] intrigue about science is obvious. He is never satisfied with just doing enough to get by. He constantly pushes himself to improve and his compassionate personality makes him want to use his talents to help others," Fischer said.
Senior Nirmal Nathan, who has been friends with Kandakudy since their freshman year, noticed the same collaborative propensity present in Kandakudy interactions with those around him.
"[Kandakudy] is empathetic and nonjudgmental. He's honest with you and understands your perspective; most importantly he's patient with you even when you mess up. I see these translate into his job as a CNA because he's able to be patient and empathetic with the people he works with," Nathan said.
As a CNA, Kandakudy has stayed true to his character and his concern for those around him is evident in his work as he cares for patients. He expresses his empathy and worry especially amidst the COVID-19 pandemic.
"I work with sick, elderly patients who are most susceptible to the virus. Not only did I fear contracting the disease, I was more scared that I would pass it on to them and those who I care about," Kandakudy said.
Kandakudy's concerns regarding his job extend past his patients' well-being though. Due to his age, Kandakudy has found himself among complications with coworkers and even patients questioning his qualifications, but ensures that he doesn't let his age get in the way of his work.
"It was very hard to find a job because of my age — I am 17. I have to constantly prove that I am good at what I do because it's obvious that some of my coworkers think that I can't do it. Even my patients doubt my abilities to care for them, but I always prove them wrong," Kandakudy said.
Kandakudy plans to continue his work as a CNA throughout college, after which his current aspirations are to continue on to medical school to become a doctor.
"I plan to go to a four year university, hopefully at [University of Illinois Urbana-Champaign], majoring in biological sciences. Then, go to medical school and become an amazing cardiothoracic surgeon. I know that sounds pretentious, but I think it's important to dream big," Kandakudy said.
Kandakudy expresses his appreciation for his job and the ways in which it will catapult him into the world of medicine.
"I love medicine and I know that I'll make a great physician. And being a CNA is the first step. I got a taste of what the medical field is like, and I truly love it," Kandakudy said.