Badminton Q&A with varsity athlete Selia Fry
Hang on for a minute...we're trying to find some more stories you might like.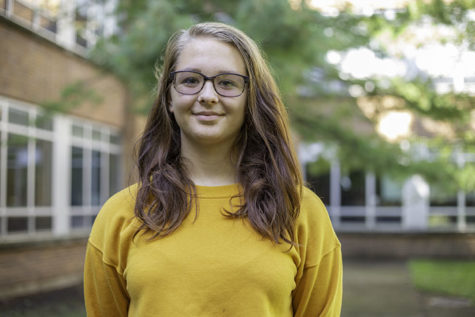 More stories from Rachel Ley
The birdie soars through the air and over the net. Junior Selia Fry takes a deep breath, grips her racket tight and prepares to send it back over towards her opponent. For most people, badminton is a fun Sunday afternoon yard game. For Fry, it's so much more.
Fry has been on the badminton team since her freshman year, this is her first year varsity. Because badminton isn't as well known as other sports at DGS, Selia shared some insight on what it really means to be a member of the DGS badminton team.
Q: Were you involved in badminton before attending DGS, and what made you want to join the club?
A: I wasn't involved in badminton before DGS. [Like other members of the team], I played for one unit in middle school and that's where I decided I wanted to play in high school.

Q: What lessons have you learned from the badminton program here at DGS?
A: In badminton we learn that effort is all you need to feel good about something. Whether I'm winning or losing a game, if I know I played my hardest I'm extremely happy at the end no matter what.
Q: What is something you want people to know about badminton?
A: Badminton takes more skill than it looks like. We practice everyday just like the other sports, and we condition just as hard. We just train a certain part of our mind with the court to get our sport to our best ability.
Q: What is your favorite thing about being a part of the badminton program, and how does it differ from the other activities you do here at DGS?
A: My favorite thing is the self dependency. We all train the same, but some people put their all into every shot they take and that reflects onto our games. I like knowing that if I practice a certain skill I will improve on it and it pushes me to put my everything into all of my games.
Q: Do you see yourself playing badminton after high school?
A: I personally don't think I will do badminton after high school in college or club, but I'll obviously still play with my friends and family whenever I get the chance.