Thrifting: Why my style from elementary school is cool now
Hang on for a minute...we're trying to find some more stories you might like.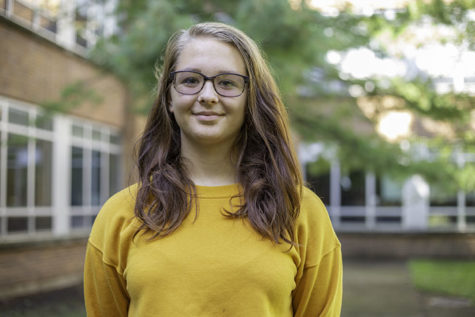 More stories from Rachel Ley
It's 2012 and your parents just took you to Goodwill for new back to school outfits because money is tight this week. You go to school feeling embarrassed because your family cannot afford expensive clothes, and your friends make fun of you for wearing hand-me-down items.
Fast forward to 2018, when the first thing trendy teens do when they get their paychecks is go thrifting. These days, if you don't look like you just stepped out of a scene from The Breakfast Club, you're not hip enough.
What's the appeal with teens and thrifting, and why did us broke kids never get credit for pioneering this trend back in the fifth grade?  
The style in high school used to be skinny jeans, Ugg boots and Hollister sweatshirts. Now, the style is vintage looking sneakers, jeans, a t-shirt from a band your parents probably listened to in their 20's and an oversized flannel. The change in style and pull towards non-brand name items and unique styles can be credited towards thrifting.
It's the day and age where being yourself is finally cool now. Having your own style IS the style, it's no surprise people want to shop places where they can create their own looks out of thin air. Taking pieces from different eras, making them new again and bringing them back to life is what thrifting is all about.
Part of the attraction of shopping second-hand is that you can find great pieces at places like Goodwill and Salvation Army that are really unique and not normally sold in retail stores.  Pieces can also be upcycled easily and made new again if you have a vision and can make them your own. A dad's old Tommy Hilfiger shirt can easily become a cute crop top for $5 instead of the $50 it would cost at Urban Outfitters.
Another benefit is the prices. Teens these days don't have much time for a job with trying to juggle school and extracurriculars, so money can be tight. Having fun and cheap alternatives for things we love doing are highly appreciated.
For those of us who love shopping, we can either get paid and run to the mall and make it out with about 6 items for $100, or we can go to Goodwill and pick up 15 items with the same budget. Buying items second-hand allows us to fuel our materialistic yearnings, and stay trendy whilst being frugal.
Mainstream influencers have been supporting thrifting in the media too, which has definitely influenced the push towards the idea that buying resale clothing is cool. Influencers such as Emma Chamberlain, Janelle Monáe, Liza Koshy and even Macklemore. That's right, the song "Thrift Shop" is about how Macklemore ACTUALLY does go thrift shopping.
"I love thrift shopping. It is something that has been a part of my life since I was a young kid and it's outside of the box. I like to write songs about my life and things that make me a unique person and thrift shopping is one of those. I have a bunch of clothes from thrift shops and it about, you know, just saving money. And I think that's something rare in hip-hop culture. It's usually about spending money,"  Macklemore explained in an interview with NPR Music when asked about the iconic song.
So go, be frugal! Buy that old Rolling Stones t-shirt and those Levi jeans from the resale store. What's cool is constantly changing and trends new are always surfacing, but luckily your uniqueness will never go out of style. Wear your style loud and proud and don't be ashamed that Goodwill is your Gucci.