Haywood heads Illinois High School Theatre Festival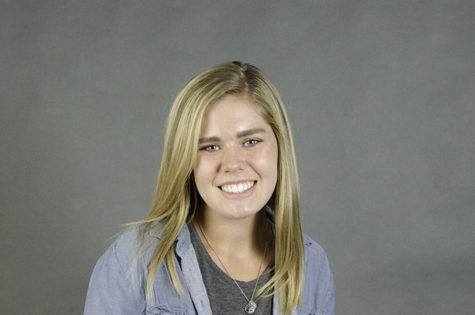 More stories from Barbara Collins
English and Theatre teacher Nathaniel Haywood will take on one of the biggest roles in his professional career this weekend as Executive Director of the Illinois High School Theatre Festival (IHSTF), the oldest and largest non-competitive high school theatre festival in the world.
Haywood has been a part of the IHSTF committee for the past 13 years. He applied for the three-year executive director role in 2016, although he says he was not expecting to acquire this position so early on in his career.
"I think I always wanted to try eventually. I didn't think it was going to be quote-on-quote so soon; I saw myself being an older teacher whenever I would be able to do it, but [I'm] definitely excited," Haywood said.
As executive director, Haywood is in charge of all of the festival's big decisions. He helped select the workshops and plays to be showcased and continues to make sure all goes according to plan.
Approximately 4,600 students and chaperones are expected to attend the festival, 20 of those students from DGS. The three-day event consists of different workshops on topics such as acting and playwriting that students can choose to attend.
English and Theatre teacher Tiffany Rubin has been attending the festival as a DGS chaperone for the past few years. She says students typically enjoy theatre fest and thinks it is a good educational experience.
"There's so many kids that are so enthusiastic about theatre, and seeing them, that's what I love to do, seeing them so passionate about it. I think seeing other students from other schools in different areas of Illinois also getting involved makes them feel like they're part of a larger picture," Rubin said.
Attendees also have the opportunity to see plays put on by high schools across Illinois. The all-state production, "Big Fish," will be performed Friday and Saturday evening. This production involves high school students from all over Illinois.
Three DGS students will be a part of the all-state production. Junior Katelyn Scott will work with the stage crew. Junior Maddy Pteanc and senior Bella Kelly are playing at the festival as part of the all-state orchestra.
"I'm really excited to perform and share our story with everyone. We've been working really hard for months and there are so many ridiculously talented people here and I'm so excited for people to see the beautiful end result," Kelly said.
Senior Jacqueline Lestina is involved with speech and drama at DGS and has attended the festival the past two years. Because she has worked closely with Haywood on multiple plays, Lestina also feels that this year's festival will be special.
"The amount of involvement from DGS, I feel like I'll be able to see it in the show because every director has a special touch in the way that they block things or the way that they prefer the set to be modified for them and also what they encourage the actors to do," Lestina said.
Having the festival at Illinois State University (ISU) this year brings back memories for Haywood as he originally become involved with the festival while attending school there.
"I wanted it to be an ISU year since I went there. And really, it helps a lot, and it's also really nostalgic because pretty much every building, every venue that we use I've either had a class at or I saw a show at. So that's really cool; it helps a lot because I'm intimately familiar with it and then also when the festival happens it's a nice memory lane situation," Haywood said.
Managing his time between teaching, directing plays at DGS and being executive director can become a "juggling act," Haywood said. He says he heavily relies on email correspondents and will do IHSTF work later in the evening to make time for school during the day.
Haywood's theatre passion did not originally start smoothly, however. He says he was dragged to his first audition.
"I had an English teacher that thought I may be good, and one of my good friends was going to audition and so he kind of made me come. And I literally tried to leave three times; I tried to sneak out but they caught me, I mean I guess I could've left if I really wanted to, but they convinced me to stay each time. And then once I actually auditioned, I was like, 'Oh hey, I actually kind of like this,'" Haywood said.
Rubin believes that Haywood's position is an honor, and she said he has worked hard on making sure the festival will be successful.
"I think it will be special for us because seeing him there, I mean, he's the master of ceremonies and there are thousands of kids, thousands and thousands of kids that attend," Rubin said. "So seeing him up there, representing our school, I'm sure we'll get a shoutout, it's nice to know that we're part of this big group of people that just love theatre."
Leave a Comment