The struggle in the search: Teachers share their experience in acquiring the limited doses of COVID-19 vaccines
March 5, 2021
Since the release of the COVID-19 vaccine, health centers such as CVS and Walgreens have been overflowing with users trying to sign up for their dose of the vaccine. The state of Illinois has progressed to phase 1B of vaccinations, allowing teachers and staff of educational buildings to begin receiving their vaccines.
Many District 99 faculty members have been searching to get their doses of the COVID-19 vaccine. This process has become more difficult and complicated than many had expected. Social studies teacher Elaine Marinakos has been unable to receive a COVID-19 vaccine.
"I have not yet been vaccinated… I am registered with a few different facilities so that I can get text notifications of vaccine availability. I am looking at the DuPage County Health Department and Jewel Osco daily, " Marinakos said.
English teacher Zachary Kuhn was able to find an open slot to sign up for a vaccine.
"I got a text from a family member that Mariano's in Westmont had doses of the vaccine — this was at 6:00 in the morning. I clicked the link, put in my info and got an appointment. I had tried this a few times before and this was the first time it worked," Kuhn said.
Math teacher Timm Linders shared his experience searching for vaccine availability.
"Since we found out that teachers were eligible for vaccination during phase 1B, both myself and the district have been actively pursuing ways for us to get vaccinated. Personally, I was searching online for vaccination appointments at Jewel and Walgreens [and] was on the waiting list with my doctor and also on the Dupage County waiting list," Linders said.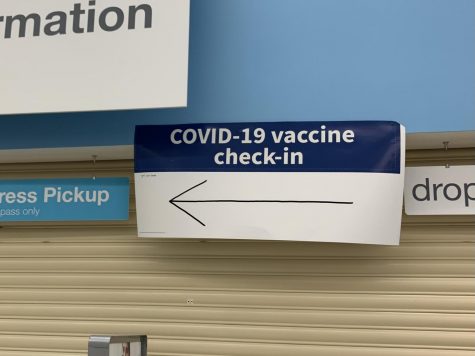 District 99 has been working to aid their faculty members on the pursuit of receiving their vaccination. Superintendent Dr. Hank Thiele explains the plans the district has in place to implement clinics to administer vaccinations.
"We have been working closely with other superintendents and leaders in the District 99 Vaccine Consortium to schedule a vaccination clinic. This would allow for about 3000 employees in the organizations to be vaccinated on a single day, if we are able to secure vaccines from the DuPage County Health Department."
Theile continued, stating, "The members of the consortium include: Downers Grove Grade School District 58, Maercker School District 60, Darien School District 61, Center Cass School District 66, Woodridge School District 68, Community High School District 99, Downers Grove, Woodridge, Darien, Westmont Village Personnel and private schools in the District 99 attendance area."
The planning for these events have had obstacles as they've faced continuous rescheduling.
"The district had originally scheduled a vaccination clinic for all staff to get their shots on Feb. 20 but Dupage County didn't have enough vaccines, so that was unfortunately canceled. However, District 88 had extra appointments available at their clinic [that] they were holding this week. Dr. Thiele worked diligently to make sure as many teachers as possible could be vaccinated with those extra items and I was lucky enough to get one of those slots," Linders said.
"
As a hybrid student, knowing that teachers are starting to get the vaccine makes me feel safer while being in the building knowing it can decrease the chance of an outbreak,"
— Martin Blader
With the increase in the amount of district 99 staff being vaccinated with the COVID-19 vaccine, in-person learning has become safer for everyone. Sophomore Martin Blader explained that knowing his teachers are getting vaccinated makes him feel more comfortable in his classroom environment.
"As a hybrid student, knowing that teachers are starting to get the vaccine makes me feel safer while being in the building knowing it can decrease the chance of an outbreak," Blader said.
While many teachers throughout the state continue to pursue vaccinations for themselves, Marinakos comments on the availability of the vaccine and how there may not be enough doses to go around.
"I know Dr. Thiele and the administrative staff are doing their best to get this all set up for us, unfortunately there is simply a shortage of vaccines at this point, and it is 'first come, first serve,'" Marinakos said.
In the meantime, Marinakos expressed that, for the safety of students and staff, District 99 should seek other options for vaccine administration.
"Dr. Theile has communicated that we should take any opportunity we can find to get vaccinated, even if that means going outside the district," Marinakos said.