Blast from the past: DGS Alumni returns as staff
March 10, 2023
South often hires alumni to coach sports teams, sponsor clubs and teach. Just like school traditions and culture, these previous students also change over time.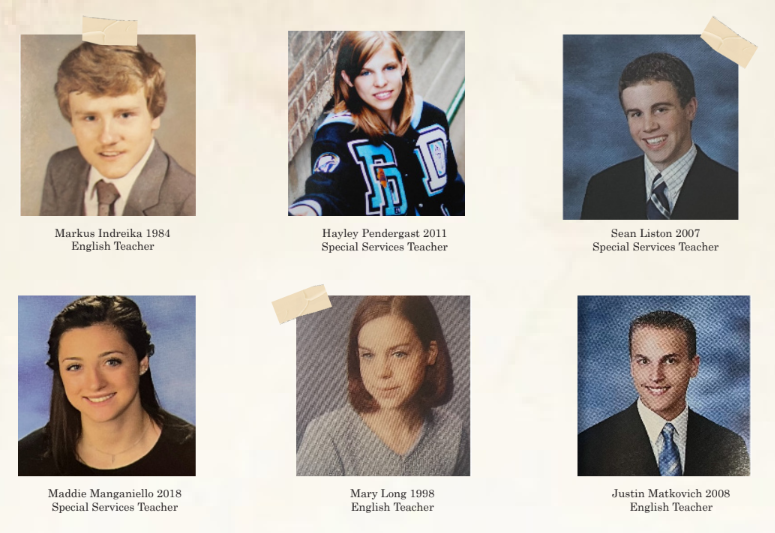 Sports, clubs evolve as alumni take the lead
Many high school students don't want to attend school each day, much less return to the building after they graduate. However, many DGS teachers were once DGS students, and they loved their high school experiences so much that they returned to coach or advise the same activities they used to partake in.
Special Services teacher Sean Liston competed in speech while he was a DGS student and is one of the current speech advisors. Although the speech program has evolved with the years, Liston said that the core of it is still the same.
"The comradery and the competition aspect of it is still the same, but it's a little bit different now. I think it was very intense when I was here; I think it's still very intense but just in a different way. It's kind of evolving with the times and we are much more aware of what's going on in students' lives and just trying to make sure that that happens while also trying to push them to be the best people they can be," Liston said.
Liston's favorite memory from speech in high school was the people. One of Liston's closest friends, Justin Matkovich, was his HDA (Humorous Duet Acting) partner while they were students at DGS, and now they advise the speech team together. Liston spoke about how his friendship with Matkovich has evolved since high school.
"I always saw him as my best friend slash little brother, and over the years his maturity, his commitment to the program and to the kids has been something that I model my own teaching after, just seeing how much he's grown. Our friendship has also grown; we didn't go to the same college but we always made time to meet up with each other. What we started in speech has just evolved into a life-long friendship," Liston said.
Like Liston, business teacher and swim coach Paul Krick's high school experiences continue to have a great impact on his life today. Krick explains how his success swimming as a student helped him make the decision to be a coach.
"I've been swimming forever. It's something I've always done, I don't know anything else. What else would I do with my time? How it's impacted me as a coach – I would say I've learned from all the coaches I've had to do what's more appropriate in practices and I avoid what I didn't like doing," Krick said.
Krick's high school swimming career was very successful. He competed at state during his sophomore, junior and senior seasons, and at his senior state meet, Krick's relay placed sixth. However, since his time as a student, the swim program has changed.
"We have less practice time than when I was a student. We used to go five mornings a week, plus after school, plus Saturdays. Over winter break we used to do mornings and afternoons. We've backed off on the time and gotten more quality in practices," Krick said.
Junior Riley Whitlock has been coached by Krick for three years and spoke on his coaching methods.
"He's very pushy and wants us to achieve our best. He gives us good sets that make us work harder and that make us faster by the end of the season. And overall, he's really fun and lets us eat all of his food," Whitlock said.
Although many DGS programs have changed over time, the people haven't, and students-turned-teachers have a great impact on the school today.

South hires former students
While many may believe that the high number of alumni among the staff points to a pattern of hiring alums over other candidates, there is no such policy in place at DGS. According to Associate Principal Georgia Hash, all candidates go through an extensive process to make sure there is no bias involved when hiring a new teacher or staff member.
"There are multiple people involved at each stage of the process and we take specific measures to try to eliminate bias for any reason, be it positive or negative. So, when an alumni makes it through that three-step process and is offered a position, it is because several teams of people have met with them over three steps and determined that they are the strongest candidate," Hash said.
Gym teacher Jillian Erzig is one such teacher who graduated in 2006 and has been teaching P.E. at DGS ever since 2012.
"There's something to be said about the fact that there are so many people who want to be back in this building post-graduation… I think it literally proves the point of how great this place is. The actions are almost self-explanatory," Erzig said.
With more than 35 alumni currently working at DGS, it is likely that some current students will return after graduation to work as teachers or staff. Senior Alex Sitko student teaches at Lakeview Junior High through the Intro to Teaching program and hopes to be able to work at DGS in the future.
"I feel like we have one of the best high schools in the area, especially with extracurriculars and [the] student body. All of the upgrades we've had to the school in general makes it just a friendly place to come back to and a great place to want to teach," Sitko said.
Erzig added that she feels her history at DGS and living in the area in general has allowed her to connect with her students on a personal level and make them feel more comfortable in her class.
"It's one of the first things I tell my students upon meeting them about myself. I think telling them I grew up in the area, I went to Indian Trail and I went to O'Neill [helps to] make a little bit more of a connection immediately, because the kids see that [I] grew up and know the area well," Erzig said.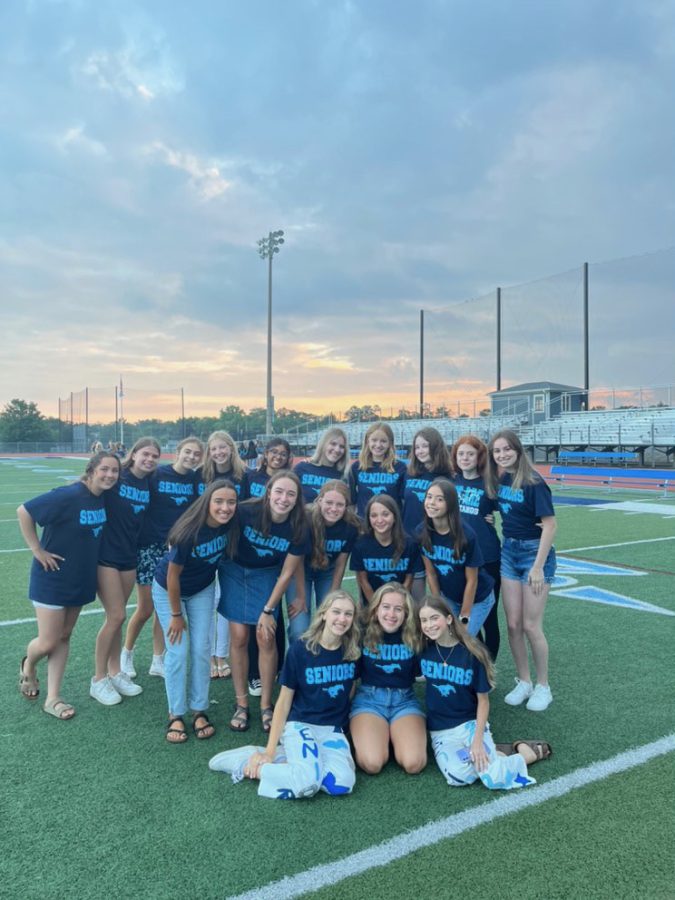 Traditions shape school culture
Every year the same cycle transpires: new students come in and graduating students move on to bigger things. But the one thing that remains constant through it all is the traditions that shape the student body. As years go on, some traditions manage to last the test of time, whereas others are quickly terminated or get lost in the cycle.
There are a variety of traditions that are common in high schools across the country: senior ditch days, pep assemblies, prom and homecoming. There are; however, an assortment of traditions specific to DGS. Social studies teacher and DGS alumni Carolyn Flores discussed the traditions that occurred when she was in high school that still exist today.
"Exit with pride, where at the end of the year, after graduation practice, you would go out and have a big picnic, and I remember we all went to the little auditorium and watched the senior video," Flores said. "We did a senior ditch day, although I will tell you I did not partake in it because I played softball in the spring and because we only had one senior ditch day."
While there are a lot of traditions that still exist, there are also many that were terminated due to safety purposes. From TP-ing the school to burning effigies, symbolic objects of other schools, Flores recalled many traditions that are no longer present at DGS, and her realization as to why this is.
"I have a memory, during sophomore year, of going to the school, over by the football field and Powers Park, there was a school-sponsored bonfire and we burned an effigy, and when I say we, I was just a spectator, but burned an effigy of the mascot on the other team," Flores said.
Today, many of the traditions that exist are a lot less dangerous and destructive but are just as memorable. Senior Hanna Rodeck illustrated the importance of having traditions in high school and how that positively impacted her high school experience.
"I think [traditions] give a little bit of a sense of consistency. You start off freshman year with these traditions and you can carry them through to senior year, but it also brings our class closer together. The older you get the seniors know how all the traditions work, and the freshmen are just figuring things out, so it really helps you connect with people in your grade, and help people younger than you," Rodeck said.
Flores described why traditions are an important part of high school and how they play a significant role in bonding the students within a class.
"When you're old like me, you remember [the traditions] and it's something to remember… If I ever saw someone who I maybe don't see very often, at a reunion or something, I think it's a core memory that we have to look back on because so much of the day-to-day occurrence of what's going on in school you don't remember, but you remember the big stuff," Flores said.