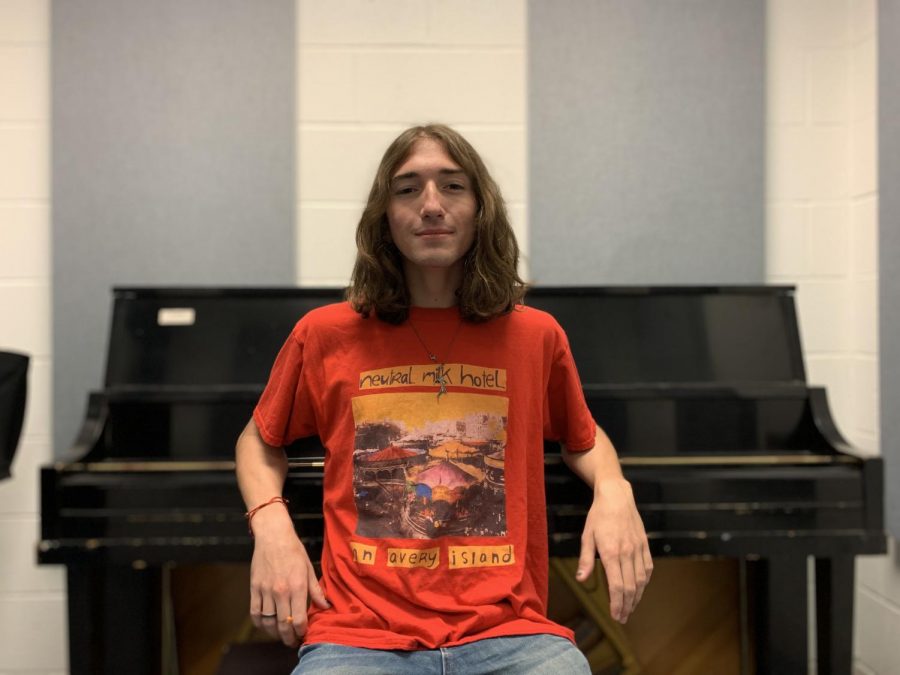 Aidan Coyne revives punk with 'Man on Rock'
Senior Aidan Coyne's long hair, painted nails and unique assortment of jewelry are just a few details that make up his punk rock look. But Coyne doesn't just look punk- he lives and breathes it.
Coyne's love for all things punk started his sophomore year when longtime friend and fellow senior Reese Luco approached him with the idea to form a band. After recruiting another guitarist, the group decided on a name: "Man on Rock".
"So, Man on Rock. I didn't come up with it, but Man on Rocks is a game that you play at recess," Coyne said. "We have a few originals, but we mostly just cover punk songs."
When asked about their first attempts at playing together as a band, Coyne laughed with bittersweet remembrance.
"It was very satisfying, to finally get something accomplished," Coyne said.
With the complexity of COVID-19, Coyne's band hasn't been able to play many gigs. Even so, they keep the sound alive, practicing in a band member's basement. Coyne believes that no matter how it's done, music is meant to be shared.
"I think that if you can play an instrument, and you have some sort of collaborative creativity inside of you, then you should at least try to collaborate with other people," Coyne said.
Coyne's passion for music started long before the band, though. He has been an avid guitar player since the age of eight. When asked about his love for music, Coyne's eyes lit up with passion.
"I love music, and I try to keep it in my life as much as possible. I think music is just the best form of artistic expression," Coyne said.
While Coyne and the rest of the band aren't currently set to play any shows, they don't plan on giving up on Man on Rock any time soon.