DGS teachers and students strive to engage students politically
November 22, 2019
In general, young people are the most apathetic group when it comes to politics. As a collective, they have had the lowest turnout in every election since 1978.
A potential reason for this apathy is a lack of knowledge on the topic. Social studies teacher and politics club sponsor Tracy Culcasi believes this might explain young people's low voter turnout.
"Certainly, one of the barriers [to young people voting] is that they don't feel they're knowledgeable enough. So, if students gain more knowledge and maybe more confidence so they understand the issues they're probably more likely to be engaged," Culcasi said.
AP Government teacher Laura Rodey believes one way in which students can become more knowledgeable about the issues is through the classes they take, with one of these being AP Government.
"One thing I feel really good about AP government is they will leave with a better understanding of how government works and how that plays into issues and, I think they hopefully feel more confident taking a position on topics and understanding topics," Rodey said.
Taking social studies electives isn't the only way to become informed, however. Rodey also believes that staying up to date on current events can help students be able to take positions on issues they care about.
"The other thing is just to pay attention to what's going on in the news. I think a lot of students are very disengaged from what's going on so just paying attention to [current events] helps you feel more connected and comfortable analyzing and thinking about [issues]," Rodey said.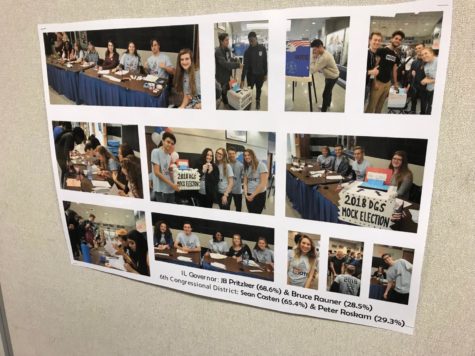 Not all students are uninformed, however. Sophomore Bobby Grogan believes it's important to stay knowledgeable on today's issues and does so in a variety of ways.
"It's important to know what you're talking about and always understand what's going on in the world. For me, I'm subscribed to the New York Times and The Economist. I usually just read those two things, but I also like reading the Cato Institute and I have CNN alerts on my phone," Grogan said.
In 2019, staying informed is just a click away at all times. However, for some students, being informed isn't enough on its own.
One such example of this is senior Nathan Wiechec. Wiechec worked on David Olsen's mayoral campaign and tries to stay politically involved whenever he can.
"My political experiences have been quite great. I've had the opportunity to both better understand my views and those of others while getting to be more involved in my community. Many people complain about a variety of issues with government, and the way to alleviate them is to get involved, vote and have beneficial discourse with others," Wiechec said.
Better understanding the issues is one way students believe they benefit from involvement. Getting to meet the politicians behind the policy is another. Senior Mateo Garcia worked with Nathan Wiechec on David Olsen's campaign.
"[When working with David Olsen] you could really tell what he stood for. He was a great guy and was more accessible than any of the other candidates so we went up to David and just asked 'can we help just to see what it's like'," Garcia said.
Overall, students that have taken action regard it as a largely positive experience. Wiechec even suggests that others do the same.
"I feel it's very important to be politically involved because whether we would like to admit it or not, politics eventually affects our lives in a plethora of ways. It's important to be involved as you can share your opinion and maybe create change in accordance with your beliefs," Wiechec said.