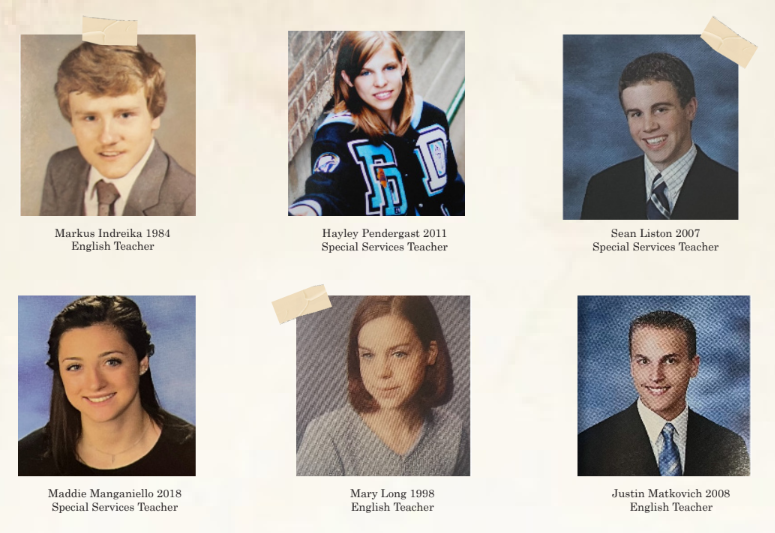 Sports, clubs evolve as alumni take the lead
March 10, 2023
Many high school students don't want to attend school each day, much less return to the building after they graduate. However, many DGS teachers were once DGS students, and they loved their high school experiences so much that they returned to coach or advise the same activities they used to partake in.
Special Services teacher Sean Liston competed in speech while he was a DGS student and is one of the current speech advisors. Although the speech program has evolved with the years, Liston said that the core of it is still the same.
"The comradery and the competition aspect of it is still the same, but it's a little bit different now. I think it was very intense when I was here; I think it's still very intense but just in a different way. It's kind of evolving with the times and we are much more aware of what's going on in students' lives and just trying to make sure that that happens while also trying to push them to be the best people they can be," Liston said.
Liston's favorite memory from speech in high school was the people. One of Liston's closest friends, Justin Matkovich, was his HDA (Humorous Duet Acting) partner while they were students at DGS, and now they advise the speech team together. Liston spoke about how his friendship with Matkovich has evolved since high school.
"I always saw him as my best friend slash little brother, and over the years his maturity, his commitment to the program and to the kids has been something that I model my own teaching after, just seeing how much he's grown. Our friendship has also grown; we didn't go to the same college but we always made time to meet up with each other. What we started in speech has just evolved into a life-long friendship," Liston said.
Like Liston, business teacher and swim coach Paul Krick's high school experiences continue to have a great impact on his life today. Krick explains how his success swimming as a student helped him make the decision to be a coach.
"I've been swimming forever. It's something I've always done, I don't know anything else. What else would I do with my time? How it's impacted me as a coach – I would say I've learned from all the coaches I've had to do what's more appropriate in practices and I avoid what I didn't like doing," Krick said.
Krick's high school swimming career was very successful. He competed at state during his sophomore, junior and senior seasons, and at his senior state meet, Krick's relay placed sixth. However, since his time as a student, the swim program has changed.
"We have less practice time than when I was a student. We used to go five mornings a week, plus after school, plus Saturdays. Over winter break we used to do mornings and afternoons. We've backed off on the time and gotten more quality in practices," Krick said.
Junior Riley Whitlock has been coached by Krick for three years and spoke on his coaching methods.
"He's very pushy and wants us to achieve our best. He gives us good sets that make us work harder and that make us faster by the end of the season. And overall, he's really fun and lets us eat all of his food," Whitlock said.
Although many DGS programs have changed over time, the people haven't, and students-turned-teachers have a great impact on the school today.