Privacy: The push and pull between rights and privilege
December 6, 2021
According to ABC News, the average teenager spends more than seven hours on their phone every day. These devices often hold a great deal of personal information for their user. This detail, however, does not stop 60% of parents from monitoring their children's phones (PEW
Research Center).
Methods of auditing cell phones have become as varied and advanced as the handhelds themselves. Parents have an array of options, such as the popular location-tracking app Life 360. Or, if they have an Apple device, parents can go right into Settings to utilize Screen Time, a program that allows for the device user—or user's parent—to track and limit the time spent on certain apps.
Many parents choose more than one monitoring tool when managing their kids' phone usage. Sophomore Nathan Kulovany discusses the ways in which his phone is supervised.
"When I get in trouble, [my dad] will go through all my text messages, my camera roll, my Snapchat…I think it becomes inappropriate when he starts going through my messages [with friends]; I think that's not fair to me or the person who's texting me," Kulovany said.
Kulovany's father, Michael Kulovany, comments on the reasons behind why he monitors his childrens' phones.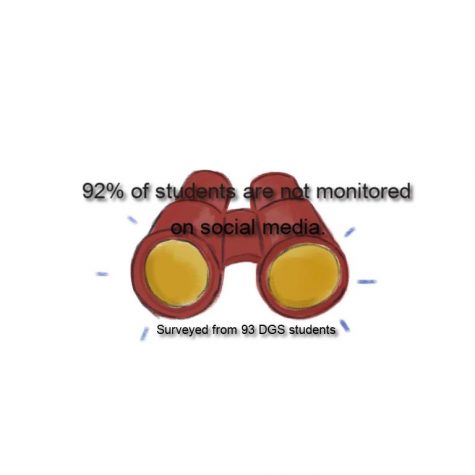 "I think that parents do have a right to infringe [on that privacy] if they feel that their kids may be doing something that could harm them," Kulovany said.
It is widely agreed that privacy is crucial to a child's development. It allows them a first taste of independence and room to explore their identity. Monitoring a teen's phone habits can cause tension between child and parent if the child feels their privacy is being compromised (Psychology Today).
There is, however, a middle ground to be reached when monitoring phone usage. Kulovany notes that Screen Time, a relatively non-invasive program, has been beneficial for him at times.
"I don't see a problem with setting a 'bedtime' for your kids…I also think it's pretty effective, like when I get grounded my dad blocks everything and it motivates me to do better because I literally can't do anything when my apps are all off," Kulovany said.
Privacy is a delicate line to toe, as parents and teens have found. It seems that a child's cellular privacy is dependent on whether or not their parent trusts them not to abuse it. But, that conclusion in itself begs the question: Is privacy a right or a privilege?