Fast fashion generates struggle for shoppers
December 1, 2021
Fast fashion supports trends while environment health is pushed aside
Fast fashion is something that has swallowed the fashion industry whole. While the affordability factor is appealing, the effect on the environment is undeniable. Despite the environmental risk, sometimes shopping fast fashion is unavoidable.
Fast fashion is clothing that is made quickly to match trends that is also very inexpensive to make and sell. Some stores like SHEIN and ROMWE sell their clothing at a very low price to match the low price of production. Other stores like Zara, GAP and H&M raise the prices slightly and are seen as a somewhat better option than their competitors.
Trends zip in and out of our day-to-day lives so quickly that it is hard to keep up and stay in style. These stores make staying in style more accessible to the masses.
The downside to accessibility is the detrimental effect fast fashion has on the environment. The speed at which trends come and go results in more clothes being wasted and ending up in landfills. According to the Saturday Evening Post, the average American throws away around 81 pounds of clothing yearly.
"
If you're a teenager, getting an income to get new clothes is just not realistic, sometimes it's all you can afford, and it's an ugly truth, but most of the products we consume also have similar consequences."
— Anonymous
H&M is one of the most widely known brands for producing fast fashion clothing; however, it is also one of the biggest brands to start a public initiative for more sustainable production and sales.
H&M stated in their 2020 Sustainability Performance Report that their vision is to lead the change towards circular and climate positive fashion while being a fair and equal company. In order to achieve their vision they are moving away from a linear model of clothing production. Rather than the common take, use, waste cycle of linear models they want to move to a circular model, repair, reuse, remake and recycle.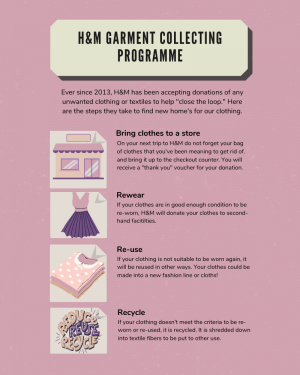 In 2013 H&M rolled out their global Garment Collecting Programme. In order to follow the four "r's" of the circular model they put in place, clothing and textile collecting bins were placed inside H&M retail stores. If clothes were donated to H&M the customer would receive a "thank you" voucher to use on their next purchase.
Once the clothing and textiles are collected from the boxes there are three different paths that can be taken. The first path is rewear. In this case, the clothes are in good enough condition to be donated to second-hand clothing stores.
The next path taken is reuse. When clothing is reused, it means it is not suitable for donation but it can be made into other items like remake collections. The clothing that is donated is shredded into textile fibers and goes through a long process that results in new clothing for H&M.
If the clothing cannot be reworn or reused, it is recycled. Recycling the clothing means that it will be shredded into textile fibers and put to a different use.
Obstacles around shopping sustainably
Shopping sustainably is not something that can be done by most people. It is common amongst many teens and young adults to want to be able to shop sustainably but it is not in their budget. Senior Ariel Hoskin shared her reasoning as to why she can't shop sustainably.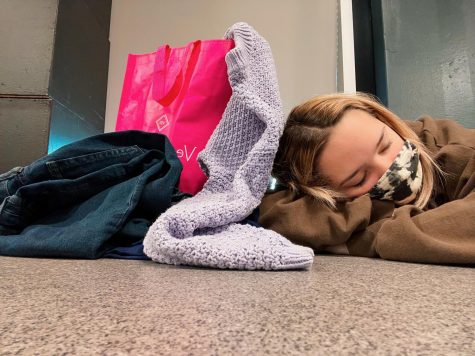 "[Being a high school student is] basically the only thing preventing me from shopping sustainably. If I were older with a better salary it would be a lot easier to shop sustainably. I think [being 100% sustainable] is really important for our environment and for our duty as citizens. I'd love to get to that point in my life but as of right now, it's just not possible for me personally," Hoskin said.
"
I try not to [shop fast fashion] too often because I know it's not good for the environment and I should be supporting small businesses."
— Ariel Hoskin
While there are obstacles standing in the way of shopping sustainably for many, some find ways to make sustainable shopping a regular part of their lives. According to IBM 78% of Gen Z purchased or want to purchase pre-owned, repaired, or renewed products. Freshman Sebastian Blanco shared how they shop sustainably.
"I tend to shop at thrift stores or obtain clothes second hand some other way such as hand-me-downs from older relatives. I try to shop at sustainable retailers that aren't as bad for the environment such as brands like SHEIN," Blanco said.
Not only does fast fashion negatively affect our environment but it hinders the progress of small businesses. Shopping local not only helps the environment but it helps our communities. Co-Owner of White Satin Bridal, Sarah Arrigoni, gave her take on what shopping small means to her.
"I love to support small local businesses when I shop. I count on people coming to me and not shopping at big box bridal stores to have that personal experience. We are located in a cute small downtown area and I try to shop local all the time. This means I buy at my local meat market, produce grocer, clothing boutiques and always [eat] at our local restaurants and coffee shops," Arrigoni said.
While fast fashion has a role in society, being mindful of its effect on the environment and its communities is the way that consumers can shop sustainably.