How Covid-19 changed teaching music
October 6, 2021
Like most of the world, COVID-19 heavily impacted Lowrey, especially as an educator and musician. Lowrey spoke about how Covid has impacted his work.
"Zoom teaching was the worst possible thing…I didn't have the energy that I could feed off the kids anymore," Lowrey said.
Lowrey explained that he had to spend the school year teaching in a bedroom, closet or garage to get his lessons done. Lowrey commented on how having to teach at home severely affected his enjoyment of teaching.
"I didn't want to teach any more…Music is something that is supposed to be done together and as a group and to experience together," Lowrey said.
Lowrey no longer has to connect with his students through a screen and is ready to continue on his mission for DGS. Lowrey explained that he wants to leave a profound impact on South.
"
"My main goal is to provide every student with a voice. I want to make sure that every student's voice is heard, and that everything that we do is based off [of] the voice of the student.""
— Jerry Lowrey
Lowrey wants to make sure everything revolves around the kids no matter what. Lowrey also gave his opinion on how band class should be run.
"Are we doing things because they are always done that way or are we doing things because that's the students' needs?" Lowrey said.
Creating a student-centered program is something that Lowrey promotes. This ideal has the possibility to change the band program entirely for the better. Lowrey not only cares about his students during their time at South, but he hopes that they go out into the world feeling heard and represented.
Lowrey also wants students to leave South with the tools to have difficult conversations, be inquisitive and not only accept the world for what it is. He wants to encourage students to have the courage to stand for something instead of "just standing against everything."
Junior Annie White expressed her admiration for the school's new band director.
"[Lowrey] makes an effort with the students, even ones not in his band. He's such an overall amazing person," White said.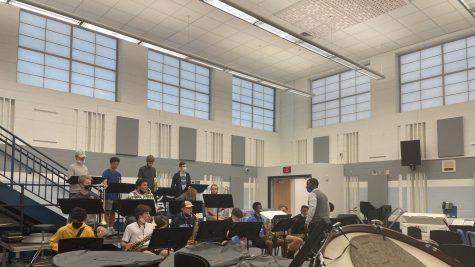 Junior Nora Joy has a similar opinion on Lowrey's presence in the band room.
"[Lowrey] has a way of speaking and giving suggestions for our music that inspires me to rethink how I approach my music, and I think he makes me a better musician in that way," Joy said.
But Lowrey hasn't only created an impact on the students. Current band director Greg Hensel expressed his support for his new colleague.
"Lowrey is an extremely caring and passionate teacher. His enthusiasm, positive attitude and patience are a winning combination. I have really enjoyed watching him interact with students and appreciate how open and willing he is to jump right into a conversation with a student he's never met," Hensel said.