Looking forward
October 6, 2021
Although Lowrey has big plans for South and the fine arts program, he initially didn't realize how big of shoes he had to fill taking the position.
"Glenn is a well known name," Lowrey said.
Lowrey himself is brand new to not only the position but the area as well. He admitted to feeling a little self-conscious and suffering from imposter syndrome when he took Williams' position.
Quickly though, Lowrey realized that he had nothing to worry about as the connection with the staff and students took the pressure off. Lowrey has some big plans for building off of Williams' program.
"[Let's] Take whatever he's done and make it even cooler and even better and more student-centered," Lowrey said.
Although the job title carries a lot of weight, Lowrey knew this was the exact place he needed to be the second he walked in and met everyone. He admitted that it was difficult to be both an administrator and head band director at his previous job.
"[I] never had enough time to excel at both," Lowrey said.
At South, however, he found that there was a greater balance and more time for himself to be thoughtful and reflect on his work. Lowrey calls himself a forever learner and takes a moment every day to figure out what he's learned and how to grow moving forward.
But in the end, what drives Lowrey's passion is the students.
"
"I love the kids. I've never met a group of students so eager to learn and make music together, and to actually experience this stuff together.""
— Jerry Lowrey
Lowrey has a lot of plans for the future. In the upcoming year, Lowrey is excited to finish painting his house and putting together his kids' treehouse. On top of that, Lowrey can't wait to have the first performance in the new auditorium and continue making relationships with students and staff.
Lowrey said that he hopes to become a staple in the community where he can get to know everyone, and everyone can get to know him.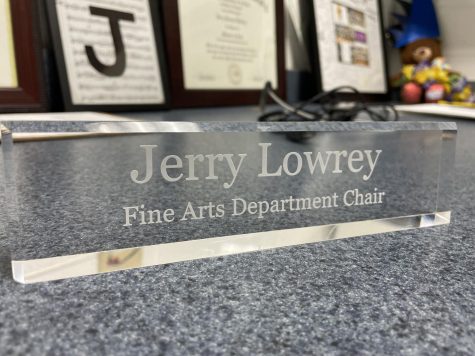 But in the meantime, Lowrey will continue to work on creating a better and more student-centered fine arts program, as well as continuing to listen to musicians like Kendrick Lamar, J. Cole and music influences from all around the world.
Lowrey shares his final message with the students of DGS: "Reflect on how much [you] focus on what people do, versus how much [you] focus on what people are going through." Lowrey encourages that especially in these tough times, it is important to see where people are coming from and understand that everyone is going through something.
Lowery is optimistic about his plans for the future of South as the new DGS fine arts department chair and assistant band director.