Lowrey's new era: South's new fine arts department chair
September 14, 2021
Lowrey grins as he gazes up at the Jazz Band, his arms raised.
"That sounds nasty, now play it again but with more funk," Lowrey said.
A brand new musician has rolled into town. Jerry Lowrey takes on DGS as the new fine arts department chair and assistant band director and is more than willing to step up to the task. This crucial role takes on not only band directing responsibilities but overseeing choir, orchestra and the creative arts department.
With Glenn Williams retiring after sixteen years of service of not only being fine arts department chair but as a part of the band program, Lowrey has some pretty big shoes to fill and is ready to grow from and honor his predecessor.
Lowrey's story
Before coming to DGS, Lowrey left Northeastern Illinois University and founded a recording studio in Atlanta Georgia. There, he spent 10 years working for universal records and his own studio company. He came back to Illinois to finish his teaching certificate at Roosevelt University and later got his masters at NIU.
Recently, Lowrey taught in Elmwood Park, La Grange and Hoffman Estates High School where he worked not only as a head band director but also as assistant principal. Lowrey discussed how his interest in music first began.
"I always had a passion. My mom was a radio DJ in Chicago for WVON Radio, so she got all the promotional copies for all of the records. So we had stacks of records, like five feet high all around our house," Lowrey said.
Lowrey started listening to rap music at just age six, began sampling it, and even coined the rapper name "Jammin J." He received his first drum set at 10, and first saxophone at 11, which allowed him to grow his musical pursuits. Lowrey even sang gospel music with the deacon at the Rock of Ages Church in Maywood every Sunday.
However, Lowrey discussed how he didn't even plan on pursuing the position he has now.
"[I] Didn't even think about it at all," Lowrey said.
The reason Lowrey left NIU in the first place was because he was "afraid of teaching." The reason behind this being that he wasn't sure he wanted to settle on one career for the rest of his life and wanted to try everything else out first. Lowrey says he always wanted to be an artist and a performer but didn't make the move to teaching until his late twenties.
How Covid-19 changed teaching music
Like most of the world, COVID-19 heavily impacted Lowrey, especially as an educator and musician. Lowrey spoke about how Covid has impacted his work.
"Zoom teaching was the worst possible thing…I didn't have the energy that I could feed off the kids anymore," Lowrey said.
Lowrey explained that he had to spend the school year teaching in a bedroom, closet or garage to get his lessons done. Lowrey commented on how having to teach at home severely affected his enjoyment of teaching.
"I didn't want to teach any more…Music is something that is supposed to be done together and as a group and to experience together," Lowrey said.
Lowrey no longer has to connect with his students through a screen and is ready to continue on his mission for DGS. Lowrey explained that he wants to leave a profound impact on South.
"
"My main goal is to provide every student with a voice. I want to make sure that every student's voice is heard, and that everything that we do is based off [of] the voice of the student.""
— Jerry Lowrey
Lowrey wants to make sure everything revolves around the kids no matter what. Lowrey also gave his opinion on how band class should be run.
"Are we doing things because they are always done that way or are we doing things because that's the students' needs?" Lowrey said.
Creating a student-centered program is something that Lowrey promotes. This ideal has the possibility to change the band program entirely for the better. Lowrey not only cares about his students during their time at South, but he hopes that they go out into the world feeling heard and represented.
Lowrey also wants students to leave South with the tools to have difficult conversations, be inquisitive and not only accept the world for what it is. He wants to encourage students to have the courage to stand for something instead of "just standing against everything."
Junior Annie White expressed her admiration for the school's new band director.
"[Lowrey] makes an effort with the students, even ones not in his band. He's such an overall amazing person," White said.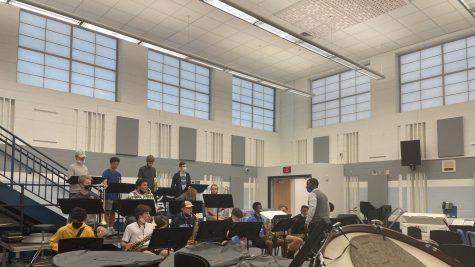 Junior Nora Joy has a similar opinion on Lowrey's presence in the band room.
"[Lowrey] has a way of speaking and giving suggestions for our music that inspires me to rethink how I approach my music, and I think he makes me a better musician in that way," Joy said.
But Lowrey hasn't only created an impact on the students. Current band director Greg Hensel expressed his support for his new colleague.
"Lowrey is an extremely caring and passionate teacher. His enthusiasm, positive attitude and patience are a winning combination. I have really enjoyed watching him interact with students and appreciate how open and willing he is to jump right into a conversation with a student he's never met," Hensel said.
Looking forward
Although Lowrey has big plans for South and the fine arts program, he initially didn't realize how big of shoes he had to fill taking the position.
"Glenn is a well known name," Lowrey said.
Lowrey himself is brand new to not only the position but the area as well. He admitted to feeling a little self-conscious and suffering from imposter syndrome when he took Williams' position.
Quickly though, Lowrey realized that he had nothing to worry about as the connection with the staff and students took the pressure off. Lowrey has some big plans for building off of Williams' program.
"[Let's] Take whatever he's done and make it even cooler and even better and more student-centered," Lowrey said.
Although the job title carries a lot of weight, Lowrey knew this was the exact place he needed to be the second he walked in and met everyone. He admitted that it was difficult to be both an administrator and head band director at his previous job.
"[I] never had enough time to excel at both," Lowrey said.
At South, however, he found that there was a greater balance and more time for himself to be thoughtful and reflect on his work. Lowrey calls himself a forever learner and takes a moment every day to figure out what he's learned and how to grow moving forward.
But in the end, what drives Lowrey's passion is the students.
"
"I love the kids. I've never met a group of students so eager to learn and make music together, and to actually experience this stuff together.""
— Jerry Lowrey
Lowrey has a lot of plans for the future. In the upcoming year, Lowrey is excited to finish painting his house and putting together his kids' treehouse. On top of that, Lowrey can't wait to have the first performance in the new auditorium and continue making relationships with students and staff.
Lowrey said that he hopes to become a staple in the community where he can get to know everyone, and everyone can get to know him.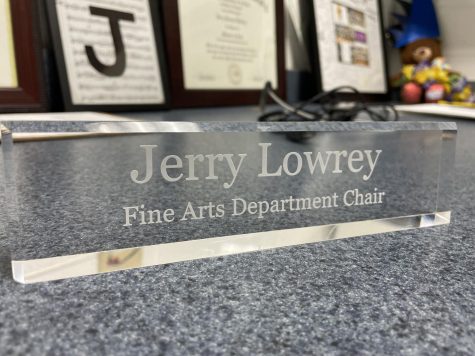 But in the meantime, Lowrey will continue to work on creating a better and more student-centered fine arts program, as well as continuing to listen to musicians like Kendrick Lamar, J. Cole and music influences from all around the world.
Lowrey shares his final message with the students of DGS: "Reflect on how much [you] focus on what people do, versus how much [you] focus on what people are going through." Lowrey encourages that especially in these tough times, it is important to see where people are coming from and understand that everyone is going through something.
Lowery is optimistic about his plans for the future of South as the new DGS fine arts department chair and assistant band director.