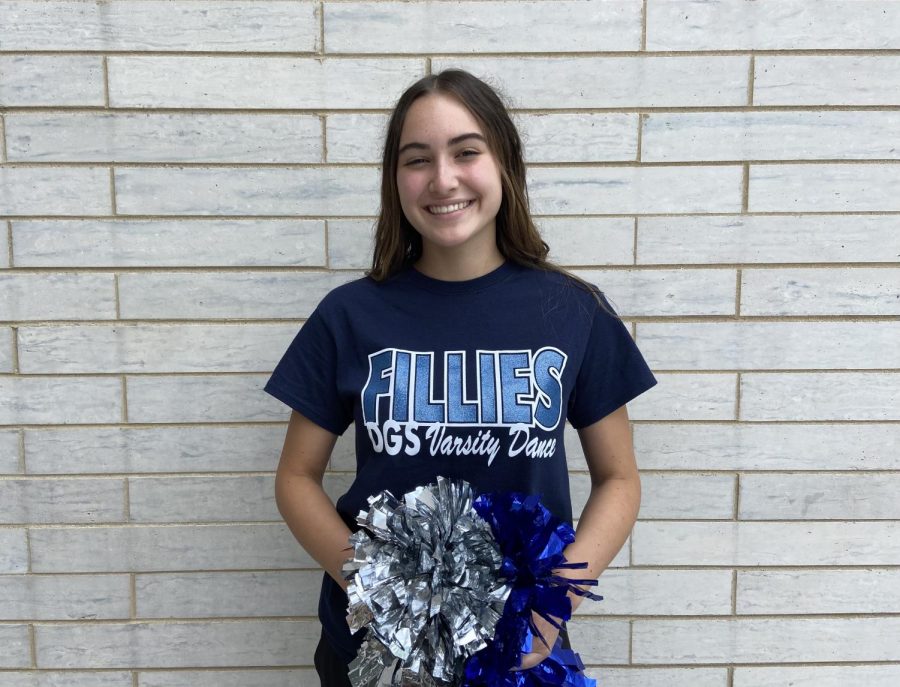 'Turning' into a DGS Fillie
While most kids were learning how to tie their shoes, sophomore Lauren Miranda was putting the finishing touches on her dance routines. Miranda started the sport at the age of 5, learning various styles throughout the years like ballet, jazz and hip hop. As she grew, Miranda decided to join a competitive team, increasing her skills and variety as a dancer.
When high school came around, Miranda decided she wanted to try something new and out of her comfort zone: poms style dance. Miranda, having never danced this style before, went into tryouts nervous. She was then surprised to hear that not only would she make the team, but she had a spot on the varsity Fillies.
"I just wanted to make one team, so the fact that I made varsity was really cool," Miranda said.
Miranda's dance background provided a good backbone for jumping into this new style, but practice was still necessary in order to achieve success on the team.
"I had never done poms before, so it was definitely an interesting experience learning a new style of dance, but it helped me to become a more versatile dancer," Miranda said.
As the dance season began, Miranda grew as a dancer, not only by learning this new style, but also by working with an experienced group of dancers as an underclassman. Typically the Fillies dance team is made up of juniors and seniors who have been dancing together for many seasons prior. As a result, Miranda was able to observe their fluidity as a team and grasp the new style quickly.
"I learned a lot from the other dancers on my team because they are all so good and helped me grow as a dancer," Miranda said.
Prior to her first practice, Miranda was nervous about being included on the team as well as an underclassmen, but her nerves were quickly calmed after she discovered how welcoming the team really was.
"I was so nervous just because I didn't know anyone and they [the other dancers] were so much older than me, but they were all super nice and inclusive, so the nerves quickly went away," Miranda said.
Miranda spoke fondly specifically about junior Rose Kuhlman as being especially inclusive. The two both danced for the same company at one point, and Kuhlman was also once in the same shoes as an underclassmen on varsity dance not knowing many people.
"She [Kuhlman] was super welcoming to me and introduced me to everyone on the team," Miranda said.
As the 2021 season begins, Miranda described how she is looking forward to her second year on the Fillies and her continuation of growth as a dancer. You can catch her and the rest of the team performing on Friday nights at the football halftime show.