Robert Major works to pin down DGS wrestling record
January 17, 2020
Junior Robert Major takes to the mat, face-to-face with another wrestler in his weight class. The opponents shake hands, and then Major gets into his starting position hoping to receive yet another win to add to his record books.
Major has been wrestling since second grade. Nine years later, Major is still in love with the sport. Major opens up about how he began his wrestling career.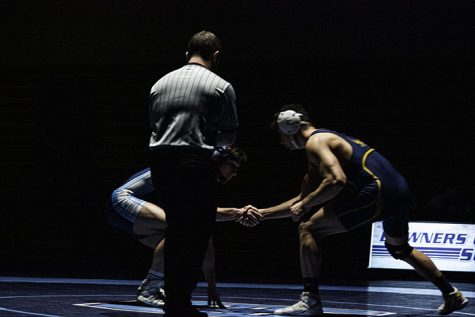 "When I was in second grade, there was a flyer passed out at my school, and I just decided to try it," Major said.
Major has gained multiple achievements throughout his three seasons of high school wrestling. Varsity head coach Sean Lovelace reflects upon the achievements that Major has brought to the wrestling program.
"He is currently ranked number two in the state for his weight class as a junior. He has racked up 111 wins through about two-thirds of his junior year. Our program record is 147 wins, which he is going to shatter, not this year but early into his senior year, setting DGS history," Lovelace said.
"
His goal is to be a state champion and we have that same goal for him."
— Sean Lovelace
Major was the freshman-sophomore state champion his sophomore year. He has already won two invites this season in which he defended his own title. Additionally, Major was an All-American Wrestler at a national tournament over the summer in North Dakota.
In order for a team to run smoothly, team captains can play a vital role in that process. Major is one of the team captains accompanied by junior Sharon Leon and senior Cristal Lopez-Contreras. Senior Joey Straus explains how Major is very honest with his team every day.
"He isn't very vocal but if he sees someone doing something that they shouldn't be doing, he will let them know. He doesn't hold back and will let you know if you are doing something wrong," Straus said.
Major feels that his roles as a team captain extend further than just getting the team ready for practices or matches. Major feels that he is always there for his team whenever they need someone.
"The captains are in charge of warming up the team at practice. I am teaching the team some things here or there, such as going out for the coin flip at the matches. I am also the person who if someone needs something on the team, wrestling related or not, I am always there if they need anything," Major said.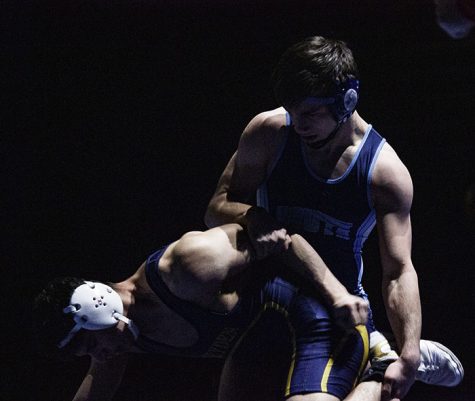 While Major is known for his wrestling achievements, he is also known for his leadership and work that he has done in the classroom. Senior wrestling manager Suzy Kitchen explains how Major shows leadership on and off the mat.
While being a high school athlete, Major has managed to take multiple honors classes, AP classes and still maintain a very high GPA. A 4.4 GPA to be exact. Lovelace describes how he thinks Major balances his everyday tasks of practice along with school work.
"Usually I think that people think 'if I am going to be a really good student, I can't be an athlete because it is going to take up too much time' or they say 'if I am going to be in sports, my grades are going to suffer because I'm working hard in meets and practices.' Robert finds time to do both, which is pretty amazing. It comes at a great sacrifice that I think most kids aren't able to make, but Robert does it everyday," Lovelace said.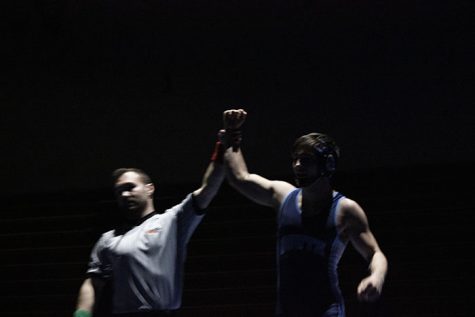 With the state meet taking place on Feb. 20-22, Major is looking towards the finish line of his junior year. Major is walking into the state meet with high goals that he is hoping to achieve at this year's state meet.
"His goal is to be a state champion, and we have that same goal for him. We are going to do everything in our power to do that for him," Lovelace said.