Cailyn Trant takes on the world: Life of an Irish dancer
December 5, 2019
After 13 years of practice, senior Cailyn Trant qualified for the 2020 Irish Dancing World Championships in Dublin. This achievement, a culmination of her years of training, was an honor for which she has been working her whole life.
Trant started dancing at the age of four after moving into the Downers Grove area. Her involvement in dance came by chance after an Irish pub trip with her family.
"My parents, after they moved everything in our house, they went to Downtown Downers Grove, and they ended up at Ballydoyle. They saw a performance there. They picked up a flier, and the next week I was at my first class," Trant said.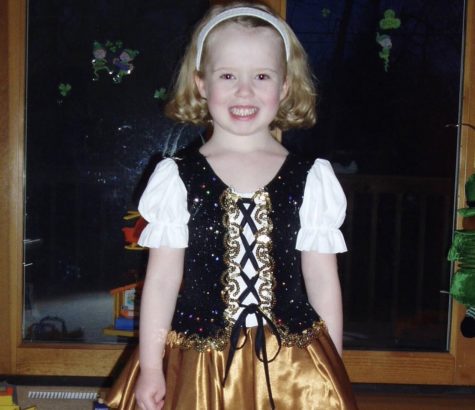 Right off the bat, Trant developed a connection with dance. From a young age, she stood out. Kevin Trant, her father, recalled an early memory of her performing days when he knew she had found her calling.
"I was watching Cailyn perform onstage as a five-year-old, and the majority of the other kids would be looking at Cailyn's feet seeing what steps she was doing. She didn't worry about anyone else and knew her steps, she continued to excel," her father said.
Trant grew to love the activity for its unique style and grace. She would compete in both large and small-scale competitions in what she described as a "strenuous" style of performing.
"It's different from other genres of dance because when watching it, Irish dancers don't use their arms — it's just from the hips down. They use their legs and their feet. It's a lot more athletic-looking than a lyrical piece or something else because you're moving so fast with your arms still at your sides," Trant said.
Trant works all year round to perfect her dancing. She has been a member of the Trinity Academy of Irish Dance from the age of four and has been able to grow as a performer over the years.
Since she has stayed at the same company, Trant has formed close bonds with her instructors. One teacher in particular, Deirdre Vrbancic, is responsible for guiding Cailyn on the path to improvement. Trant recounted her positive experiences with Vrbancic and how her mentorship has allowed her to grow.
"I've been with her since the beginning. We have a really close bond, and she really understands me as a dancer and as a person. She's one of my biggest role models throughout the years," Trant said.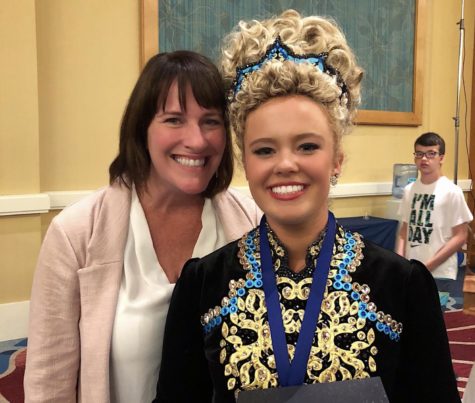 Vrbancic considers Trant a cornerstone of the company, as she is "patient and kind" to all of the dancers. She highlighted Trant's involvement with the younger members of the academy, serving as an assistant on top of her personal dance studies.
"Cailyn is an incredible team member but also a great asset as a part of our teaching staff.
She is able to command the attention of her peers but also the young dancers she mentors. Cailyn does it all here at Trinity and puts her heart and effort into everything equally while still finding time and energy to work on her own dancing," Vrbancic said.
On top of her dancing career, Trant finds time to teach the younger members of her Academy, acting as both a role model and a mentor. According to her, it's one of the most gratifying parts of improving her own skills.
"The most rewarding part is seeing how my dancing has evolved to help other people. For the past three or four years, I've been teaching dance as well so I think it's cool to look back to when I was younger to have those older role models and then to become one is really cool. It's really cool to see the impact I have seeing the little kids compete and perform," Trant said.
Because a majority of her free time is spent at the Academy, Trant has been able to foster relationships alongside her dancing career. Teammate Luc Alvarez commented on the positive experiences he's had with Cailyn over almost a decade of dancing together.
"I've known her since we were eight, and she's just been a super positive influence and a hard worker. She really inspires everyone around her to just be the best they can be," Alvarez said.
According to Vrbancic, Trant's "resilience and determination" help to make her a stellar member of the academy, but recently, her rigorous commitment has come with a cost. Trant is under constant physical stress and quite literally suffers for her art.
Irish dancing is intensely strenuous on the legs and feet, a problem to which Trant is no stranger. With her preparation for competitions, her practices can be as harmful as they are helpful.
"Going into bigger competitions, we're practicing every day of the week so it can be painful. Right now, I have strains on my legs muscles and my calves. Some of the bones in my feet are even disappearing so I'm working with my school's amazing team of physical therapists," Trant said.
Through her dance career, Trant has earned numerous titles and awards. She is currently ranked 35th in the nation. Her proudest accomplishment was from further back in her career when she quite literally conquered the world.
In 2014 the Trinity Academy of Irish Dance traveled to London for the World Championships. A team of sixteen dancers, including Trant, competed in a choreographed dance that won gold for both the dance company and the United States.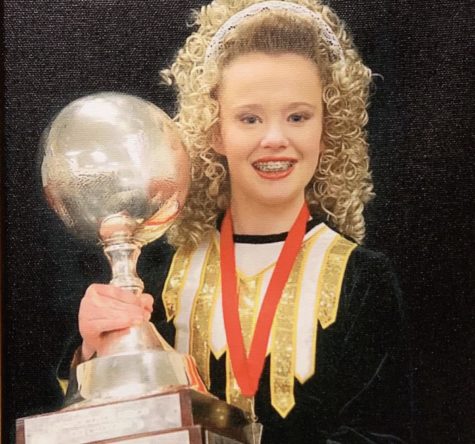 However, this time, she did it alone.
On Nov. 29, 2019, Trant attended the Midwest Region Irish Dance competition in Louisville, Ky. This competition serves as an advancement to go to the World Championship, and Trant rose to the challenge.
She qualified in the Solo Championship Girls category for her age group, a feat celebrated by her and her family. Trant's father explains his pride in seeing his daughter grow throughout the years into the dancer she is today.
"She works exceptionally hard to earn this spot and the invitation to the world championships. As her father who watched her dance for the past 13 years it was a complete joy watching her come off the stage. There was such a calm about her, a joy on her face and she just really felt comfortable."
"
As her father who watched her dance for the past 13 years it was a complete joy watching her come off the stage."
— Kevin Trant
Having achieved this qualification, Trant looks towards April. Reflecting back on her dancing career, she recalled the significance of this part phase in her life.
"Dancing has been my life for all I can remember. My family and friends have been so supportive of me and though I'm always busy, I wouldn't have it any other way," Trant said.