Senior Bella Oberg travels to Germany with immersive language program CIEE
November 11, 2019
Over the summer senior Bella Oberg took a chance on a program that few DGS students are willing to take: she studied abroad in Germany — alone. Oberg was able to think of a single word that described her experience: life-changing.
"My experience going to Berlin, Germany, was overall life-changing. It was my first time ever traveling 100% independently. I went knowing absolutely no one, but I really wanted to do it because I love speaking German," Oberg said.
The process of getting to Berlin was not an easy one. Oberg spent months perfecting her application and writing her essays, all with the help of German teacher Janet Stock. Stock spoke to the amount of time and effort that went into Oberg's application and what made her a great fit for the program.
"There's an online application with several essays that students have to write, and then they request a faculty member to recommend them. One of the things that we did together after she had written her essays was just tweak those a little bit. [What made her a good fit is] that she's open to new experiences. I think that any time you're leaving for a longer period of time without a kind of support network or your comfort zone can be a little unsettling, sometimes even just a little scary, but in a good way." Stock said.
Fortunately, Oberg got accepted to the program and earned an 85% scholarship, but her hard work was far from done. Oberg had to take a course that was approximately two hours per month to prepare her for traveling alone. 
After all the effort that Oberg put into getting to her final destination, she stated that once they landed in Berlin, the entire experience "didn't feel real."
"It just felt like we just took an airplane, flew around, and landed [back] in Chicago," Oberg said.
Soon, Oberg realized the magnitude of where she was and all the unforgettable experiences she was about to have. She described her day to day activities as "perfect." They were filled with learning the language she loved, exploring with new friends and relaxing in German cafes.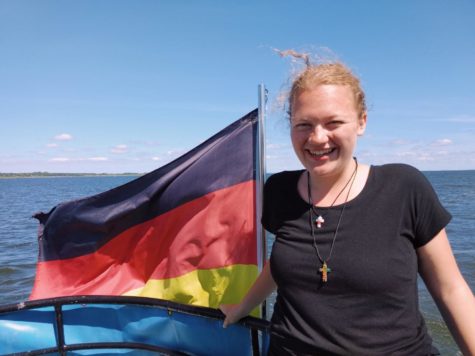 Part of Oberg's challenge of living there independently was going on trips with the class via public transportation, then having to find her own way back.
"I would have to figure out how to get home by myself. We only took public transportation. There's no driving, so I had to take three forms of public transportation over the span of an hour every day to get to school and an hour to get home. I had to ask people in German for help if I needed it. That was probably the best feeling I had over the entire trip, once I did that successfully. It was so nerve-wracking," Oberg said.
One common theme that Oberg learned throughout the program was "finding her own culture" in Germany. Because of this, Oberg decided to forgo many popular tourist locations in the hope of finding her own home in Berlin. Instead, Oberg explored the city on her own and visited an abundance of cafes.
"I would literally just get off on a random train stop, and I would find a cafe, and I would just do my homework. I would just read my book, [and] I would just write, … so I would just journal about my day. It was just really cool because every day I would just be like 'where do I want to go today,'" Oberg said.
Not everything was easy going: Oberg stated that four days into her trip, she was already struggling with balancing homework and her desire to explore, all in combination with jet-lag.
"I struggled the most on my fourth day there. [My host mom] asked me how I was doing and I just started bawling my eyes out. I really had to find a balance between 'all right you're going to spend two hours on homework, [but] you're in Germany and only have 30 days here.' [I had to] make the most of it but also get what I need to get done," Oberg said.
Despite the struggles that Oberg faced at the beginning of her trip, she stated that her own travel changed her as a person. The entire experience caused her to not sweat the small things in life anymore, especially after seeing all that her travel had to offer her. 
"Basically, it just opened my eyes, because I had an idea of how I saw myself, but then being there and literally being able to travel and being able to talk to people that I've never met before and ask them about politics and everything, … it just really opened my eyes to see everything that I could do. It just made [my] possibilities endless. The only way I can describe it is that I took my blinders off," Oberg said.
Stock noticed many of these changes in Oberg, especially regarding her fluency. After returning back to school, they were able to hold an entire conversation in German for over an hour, which would have been a struggle before Oberg's immersive trip. 
"Bella's language has really progressed. … She's taking a lot more risks and I think [that goes] beyond just her language skills. Her work ethic has always been great, but I think that this just opened her up to a lot of new experiences and made her more of a risk-taker in class," Stock said.
Both Oberg and Stock spoke to the importance of the CIEE program, available through DGS, and they hope that more students are aware of the opportunities that are available to them. Oberg's experience is one that she hopes many can have the opportunity to experience.
"Overall, when people ask me about [my trip], I just say it's life-changing because I learned so much about myself," Oberg said.