The Parkland massacre: one year later
February 14, 2019
On Feb. 14, 2018, Nikolas Cruz walked into Marjory Stoneman Douglas High School and opened fire, killing 17 people and changing the conversation about gun violence. In the past year, DGS has made numerous security changes by opening up to and listening to students, yet a lot of progress still needs to be made.
The idea of having a nationwide walkout originated from the organization Women's March Youth Empower. Five days after the tragedy, a group of juniors and seniors took to social media to begin to organize a DGS walkout. Now-senior MarcAnthony Smith was one of them.
"I was hoping, if we were part of the movement, it would help change the community. If we joined the movement, we would help start things at a much bigger level and hopefully that would be like dominoes and come back to us locally," Smith said.
The nationwide goal of the walkout was to not only honor the victims but to demand stronger gun laws from Congress. The DGS organizers followed the same sort of agenda, listening to what the other students wanted and finalizing their platform, stating, "Gun violence and the fear it culminates in school affects all of us. We are calling for all students to take a stand and fight for more gun control."
The organizers also wanted to raise money for the victims of the Parkland shooting. They sold 600 orange wristbands reading "Enough is Enough" donating all of the money to the Stoneman Douglas Victims' Fund.
The walkout took place on Mar. 14, 2018 at 10 a.m. and only lasted 10 minutes; however, these 600 students did not walk out without a consequence. Superintendent Hank Thiele sent out an email to District 99 stating, "The consequence for a first-time unexcused absence, for one class period, is a one hour detention, to be served before or after school or on a Saturday. We believe for students to receive the full civics lesson of what it means to participate in a protest also requires accepting the consequences for their actions."
Although the school board received backlash for giving consequences, student representative on the Board of Education Kirk Hoffman believes they had no choice.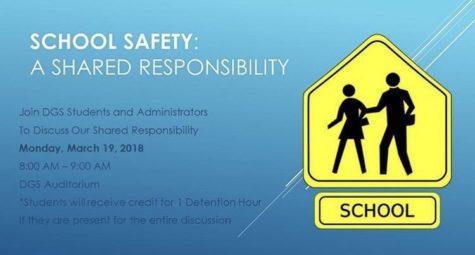 "I feel the way the board handled trying to say 'yes, you're going to have a detention, but here's a way we can try to make it constructive' was probably the best thing that they could do. I understand that people were very upset about it and upset about how the board's response was, but legally, and the way the board was pigeon-holed into making decisions, I feel like it was the best possible thing," Hoffman said.
Hoffman was referring to the forum the district held, giving students the option to attend a presentation rather than serving the detention. Though the idea was there, this forum was not well.
"The forum was a disappointment because the administration did not answer questions. They neglected to think that student's voice was required in this discussion about student safety which completely negated the whole point that started the discussion," Smith said.
In a response to this, students showed up at the Board of Education meeting on Mar. 19, 2018 to speak their opinion, criticizing the board. Senior Grace Curry attended this meeting after the forum did not meet her expectations.
"I enjoyed the Board of Education meeting because I felt like that was the first time they actually listened [to students]," Curry said.
Following the board meeting, the Student Safety Council was created to increase student voice in safety decisions.
"I think in terms of the creation of our Student Safety [Council] that we have now and creations of these more leadership positions and advisory positions that students have, I think that was broadly based off of the walkout and the way our school and the way our students responded in the way the board then decided, these students in our school want to have a voice and we need to allow them to have one," Hoffman said.
Following this came the second round of walkouts. On Apr. 20, 2018 student activist Lane Murdoch organized the national student walkout, re-energizing the conversation about stronger gun laws. Curry was the only student from DGS to walk out on this day. Many students chose not to participate because of the harsher consequences proposed, yet Curry persisted on walking out.
"For myself personally, I just think it's very selfish to put your own consequences above the meaning of the movement. I talked to people who were like, 'oh my parents are going to yell at me' or 'I have a test' or 'a quiz' or 'I don't want to have the detention.' Although I understand their perspective and I understand that they didn't want to have to deal with those consequences, I very much believe in the movement and what it stands for. I value that more than having to deal with whatever I had to do as a response," Curry said.
She along with nearly 30 DGN students gathered at Fischer Park to give speeches and hold a voter registration. The DGS organizers had a different plan. Rather than skipping an entire day of school, they would host a Politics Day where current Illinois politicians would come in and students would learn how to reach out to their representatives and get registered to vote.
Politics Day never took place. However, because the organizers mistakenly planned it on the first day after prom.
"We realized too late that we had scheduled this for the day after prom. Most of the students who would have taken an interest were seniors, who traditionally held their ditch day then. We didn't feel like it was worth it because not enough students would have shown up, so we had to cancel. It was just poorly timed," Smith said.
While the end of the 2017-18 school year focused mainly on student involvement in government, the creation of the brand new Student Safety Council and growing concern for more local security changes brought 2018-19 school year several changes in the way DGS protects students.
For starters, lead campus security supervisor Dan Niemann was hired to oversee the six-person security team at DGS.
"I was pretty much at the end of my career and I was looking for the next challenge in life and honestly I wasn't even sure that I wanted to continue with any type of security or law enforcement because I had been doing it so long…[but] I was kind of impressed by Downers Grove and District 99 based on the job description," Niemann said.
"Reason being is, a majority of schoolman campus security, other than the school resource officer who's the only law enforcement or armed individual in the school, DGS had taken a proactive approach in saying, we want to hire a retired police officer who's able to be armed, support the school resource officer, as well as provide additional security for the staff and the students," Niemann said.
In addition to the hiring of more staff members, DGS implemented a buzz-in security system for visitors, a bullet-proof window film that prevents outsiders from seeing in, locked doors from every exit, the Blue Point system that acts as a fire alarm but for dangerous intruders and starting this week an additional security officer to watch the West Events entrance at all times.
"We're always going to have a person there because as you know, as the students know and the staff knows, that really becomes an informal main entrance, especially in light of the athletic events we have going on, so we definitely have a need for somebody there," Niemann said.
The upcoming Master Facility Plan renovations also will contribute to additional security in the near future.
"We have approximately 162 cameras and that number is only going to grow in light of the renovations that will probably we could be close to the 250 mark by the time we're done with all the school improvements," Niemann said.
"I think [these are all] important improvement[s]. However, I still think there are many things that we can do to improve both as a school and as a country. And although DGS is trying to make things better, at some point, there's only so much they can do if our government isn't changing," Curry said.
The social studies department has also started to hand out packets to seniors as they turn 18 this year as an initiative for them to register to vote.
"The board recently helped sponsor through the D99 education foundation a grant to the social studies department that helps create pamphlets that we give out to students and little packets for when they turn 18 helping them getting registered to vote and helping them learn more about the political process," Hoffman said.
In the end, the question still remains, did DGS' walkout achieve its goal one year later?
"I just don't really feel like we achieved what we wanted to achieve and I think that at some point that's not our fault… [In one aspect, it] achieved its goals of bringing light to the issue but at the same time a year later I think we've pushed it under the rug again and focused on different issues and we're not so much thinking about that. In that sense I think we've failed to, I think we've lit a spark but I don't think we lit a fire that's still burning," Curry said.
We can see the effort DGS has put in to create a safer learning environment for its students, but the reality is, the discussion of student safety will never be over.
"Hopefully, we never ever have to worry about an incident like Stoneman Douglas and I can guarantee that while I'm here, I will do everything in my power to prevent an incident like that from happening," Niemann said.