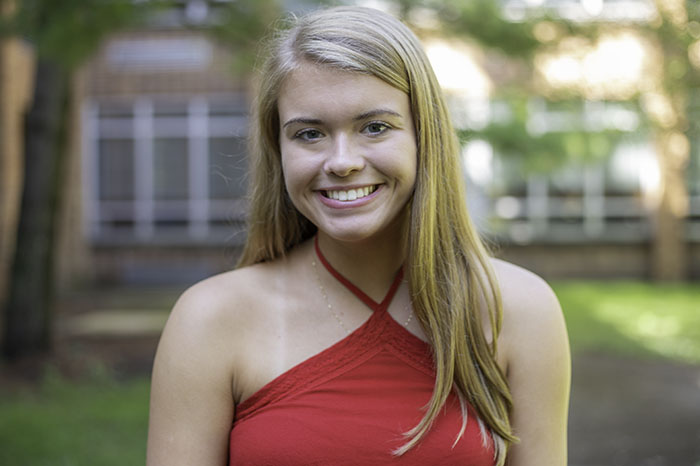 A people's issue, not a partisan one: Why I believe Christine Blasey Ford
A people's issue, not a partisan one: Why I believe Christine Blasey Ford
On Thursday, Sept. 27, 2018, Dr. Christine Blasey Ford and Supreme Court Nominee Brett Kavanaugh testified regarding Ford's allegations that Kavanaugh sexually assaulted her during the summer of 1982 in Bethesda, Maryland. Under oath, both Dr. Ford and Judge Kavanaugh stated contradicting accounts of what happened that summer.
There are many Americans who feel that Blasey Ford is being used as a political pawn and is attacking Kavanaugh solely for personal gain. To those Americans I ask, what does she have to gain from reliving her trauma on national television in front of powerful legislators and a sex crime prosecutor? Anyone who has ever had a traumatic experience knows the torture of the memories and the pain of reliving them, and Blasey Ford took on this task commendably.
In her opening statement according to a transcript of the hearing from the Washington Post, "I am here today not because I want to be. I am terrified. I am here because I believe it is my civic duty to tell you what happened to me while Brett Kavanaugh and I were in high school," Ford said. She sees coming forward as her "civic duty"; thus she is putting the good of the American people before her own personal needs and wishes.
Moreover, she stated "I truly wish I could be more helpful with more detailed answers to all of the questions that have and will be asked about how I got to the party and where it took place and so forth. I don't have all the answers, and I don't remember as much as I would like to." While critics say that her inability to recount some events of that night contradicts her credibility as a witness, the holes in her memory actually increase her credibility.
It would be more suspicious if Ford had a perfect recollection of every minute detail from that night. The event in question occurred 36 years ago, and that day was unquestionably traumatic for her. Thus it is logical for Ford to have forgotten some details, but what happened upstairs remains cemented in her mind, and that is what is most important.
In addition, Blasey Ford has named Kavanaugh as her attacker privately in 2012 during a therapy session when discussing a house remodel: "In explaining why I wanted a second front door, I began to describe the assault in detail. I recall saying that the boy who assaulted me could someday be on the U.S. Supreme Court, and spoke a bit about his background at an elitist all-boys school in Bethesda, Maryland. My husband recalls that I named my attacker as Brett Kavanaugh," Ford said.  
Ford's allegations against Brett Kavanaugh have impacted her life severely, and there is an overwhelming amount of evidence to support this fact. Kavanaugh has also been accused of sexual misconduct by three other women, yet there was no FBI investigation as of Thursday Sept 27, though Ford has specifically requested one. Both the American Bar Association and Yale Law School have urged the FBI to investigate, yet the only one who declines to say he would participate is Brett Kavanaugh himself.
In the transcript, Kavanaugh is asked by Sen. Dick Durbin (D-IL) about his stance on an FBI investigation:
"DURBIN: Why would you resist that kind of investigation?
KAVANAUGH: Senator, I – I welcome – I wanted the hearing last week.
DURBIN: I'm asking about the FBI investigation.
KAVANAUGH: They're – the committee figures out how to ask the questions, I'll do whatever. I've been on the phone multiple times with committee counsel. I'll talk to…
DURBIN: Judge Kavanaugh, will you support an FBI investigation…
KAVANAUGH: … I'll do – I'll…
DURBIN: … right now?
KAVANAUGH: … I – I will do whatever the committee wants to…"
Kavanaugh consistently avoids direct questioning regarding his feelings on an FBI investigation, yet Blasey Ford has explicitly asked for one. This begs the question, if you didn't have anything to hide, wouldn't an investigation prove your innocence?
Additionally, Kavanaugh's roommate from fall of his freshman year at Yale, James Roche, stated on his Twitter: "It is from this experience that I concluded that although Brett was normally reserved, he was a notably heavy drinker, even by the standards of the time, and that he became aggressive and belligerent when he was very drunk."
This statement both highlights the vigor with which Kavanaugh drank in his high school and college years and strengthens the credibility of Blasey Ford, who says the 1982 encounter happened when Kavanaugh was highly inebriated.
The sheer amount of evidence against Kavanaugh provides more than a "reasonable" doubt, it provides a significant amount of doubt. In contradiction to Blasey Ford's confiding in a therapist in 2012, Kavanaugh's only defense is a paper calendar with hastily scribbled events. Ford is not acting for personal political gain, and she is not the only accuser who has come forward against Kavanaugh, solidifying her claims with more validity than his.
Why is America, the self-proclaimed land where "all men are created equal," not listening to its citizens? Why are we as a country ignoring women's assault accusations against men and the rise of these men to power despite their actions? Why are we making the same mistake we did with Anita Hill and Clarence Thomas?
Maybe an answer can be found in our Declaration of Independence, where two letters are missing in front of the word "men." It is especially despicable that in this age, in the time of the #MeToo movement, that our government is standing by and allowing someone accused of sexual misconduct by multiple women to sit on the highest court in the land and serve a lifetime position.
The vote on whether or not to move forward with Kavanaugh's nomination occurred on Friday, Sept. 28, wherein the nomination was voted through to the full floor of the Senate with an 11-10 split of Republicans and Democrats, respectively.
Though this seems like a victory for the Republicans, Sen. Jeff Flake (R-AZ), has said that he will not vote for Kavanaugh on the floor unless there is an FBI investigation, contradicting his previous statement from the morning of Sept 28 which he made in support of Kavanaugh. The votes of Jeff Flake, as well as Senators Lisa Murkowski (R-AK), Susan Collins (R-ME), Heidi Heitkamp (D-ND) and Joe Manchin (D-WV) were all considered to be up in the air until Friday Oct 5.
Though the latter two are less questionable as Heitkamp and Manchin both voted for Trump's last appointee. Because the ratio of Republicans to Democrats is a close 51-49, Flake has forced the hand of majority leader Mitch McConnell to request an FBI investigation.
As of Friday Oct 5, Americans know how these 5 senators will vote. Heitkamp and Murkowski will vote to oppose the nomination and Manchin, Collins and Flake will vote in support.
What is more concerning to me than the ratios and the conflicts within party politics is what caused Jeff Flake to speak up. Mere minutes before the committee was scheduled to vote, two women, Ana Maria Archila and Maria Gallagher, confronted Flake in an elevator regarding his support to push Kavanaugh's nomination forward. These women, both survivors of sexual assault made it impossible for Flake to look away from an issue that affects numerous Americans, an issue he would be ignoring if he voted yes for Kavanaugh.
Flake then announced that his floor vote would be contingent on an FBI investigation, an action that I believe he would not have made had it not been for Archila and Gallagher. These women spoke up and took a risk, making themselves and their stories vulnerable to a man in power, and their risk paid off. Flake listened to those women, and it would serve the rest of the judiciary committee well to do the same.
Increasingly more often in our society, issues revolve too much around partisan politics. The fact that Brett Kavanaugh has been accused of assaulting Christine Blasey Ford is not a partisan issue and the problem that people have with this nomination isn't that Kavanaugh is a more conservative candidate.
The problem is that there is nothing honorable about a judge who has been accused of sexual misconduct and who has an alleged history of alcohol abuse being on the Supreme Court. It is because of this that I do not support the nomination of the "honorable" Brett Kavanaugh and I stand with Christine Blasey Ford.