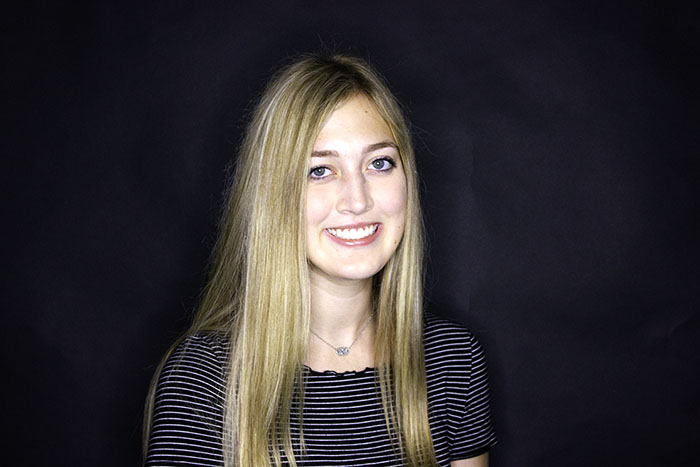 Madeline O'Neil is a senior at DGS and is currently a Copy Editor for the Blueprint. Along with Journalism, O'Neil is a member of Mustang Way, the Senior Class Board and Operation Snowball. O'Neil is also on the Varsity Dance Team and an Orchesis officer and has a passion for dancing and the arts. 
Outside of school O'Neil works at Hollister and she babysits. She enjoys drawing, learning about history and reading. She is often seen with her friends and loves visiting family in Western New York.
In the future, O'Neil hopes to study business and pre-law. She is planning to attend a 4-year university, and is looking at the University of Iowa or University of Illinois. 
Madeline O'Neil, Copy Editor
May 14, 2020

My hate letter to ranch dressing

(Story)

Apr 17, 2020

Take a deep breath and quit binge watching the news

(Story/Media)

Mar 11, 2020

DGS softball's pre-season training is out of the park

(Story/Media)

Mar 11, 2020

How your second semester will go based on your horoscope

(Story)

Mar 03, 2020

What basic shoe are you?

(Story/Media)

Feb 26, 2020

Let this week's horoscope inspire your next act of kindness

(Media)

Feb 25, 2020

Top ten essential vending machine snacks

(Media)

Feb 14, 2020

Why everyone should let lovebirds and singles live their lives this Valentine's Day

(Story)

Jan 28, 2020

Student diversity is shown through the different languages at DGS

(Story)

Jan 17, 2020

Friendship Friday: Tony Raso and James Rodden

(Story)

Jan 13, 2020

Why picture-perfect vacations don't always need a social media post

(Story/Media)

Dec 18, 2019

DGS wrestlers face an unnoticed opponent: Stigma

(Story/Media)

Dec 16, 2019

Niall Horan: Where is he now?

(Story/Media)

Nov 21, 2019

What restaurant should you eat at based on your personality?

(Story)

Nov 05, 2019

Let me be direct — cyberbullying education needs a new focus

(Story/Media)

Nov 05, 2019

DGS Operation Snowball introduces new director process

(Story)

Oct 04, 2019

MFP construction underway at DGS

(Story/Media)

Oct 04, 2019

DGS creates new early bird PE course geared toward varsity athletes

(Story)

Sep 27, 2019

The trauma of Homecoming — and why it's worth it

(Story)

Sep 20, 2019

Friendship Friday: Freshman year friends

(Story/Media)

Sep 17, 2019

'Look Mom, I Can Fly' gives fans inside look of Travis Scott

(Story/Media)