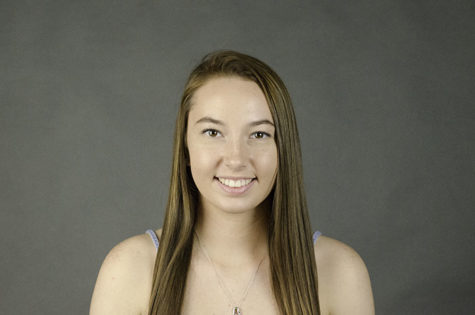 Sydney Hall is a senior at DGS. She is an Online News Editor for the 2017-2018 Blueprint newspaper. Hall is involved in various clubs at DGS such as Superfans and ACE and hopes to join more throughout her senior year at DGS. After high school, she plans to continue her education at college by majoring in journalism/communications.
Hall has been playing softball for about 11 years now and has been involved in the DGS softball program since her freshmen year. In the fall and summer, she enjoys playing travel softball for the Wheatland Spikes. She hopes to one day continue her softball career at the collegiate level.
Outside of school, Hall likes to spend time with friends and family. Her favorite artists are Chance the Rapper and Logic because of their unique sound, positive messages, and their ability to use music as a platform to talk about important topics in today's society.
Sydney Hall, Online News Editor
May 18, 2018
May 11, 2018
Mar 20, 2018

Students come face-to-face with board after forum disappoints

(Story)

Mar 16, 2018

Cutest Couple Winner

(Story)

Mar 13, 2018

Cutest Couple Contest 2018: Submissions and Voting

(Story)

Mar 12, 2018
Mar 12, 2018

Weekly Preview: Mar. 12 – Mar. 16

(Story)

Mar 01, 2018

Cutest Couple Contest: rules and information

(Story)

Mar 01, 2018

Throwback Thursday: Kara McKenna

(Story)

Feb 20, 2018

Top Ten Tuesday: Chance the Rapper songs

(Story)

Feb 14, 2018
Jan 26, 2018

Freshman Friday: Melissa Duffek

(Story)

Jan 18, 2018

DGS conquers college costs

(Story)

Dec 19, 2017

Very superstitious: DGS students share their athletic rituals

(Story)

Dec 18, 2017

DGN music teacher resigns amid sexual misconduct allegations

(Story)

Nov 21, 2017

Top ten Tuesday: TV shows on Netflix

(Story)

Nov 02, 2017

Throwback Thursday: Rachel Davis

(Story)

Oct 27, 2017

Freshman Friday: Brett Drzewiecki

(Story)

Oct 26, 2017
Oct 02, 2017

Weekly preview: Oct. 2 – Oct. 6

(Story)

Sep 27, 2017

DGS vs. HSHS Varsity football game

(Story)

Jun 01, 2017

DGS Jazz Bands perform annual "Jazz In the Park" concert in Fishel Park

(Story)

May 12, 2017

DGS puts up a fight in crosstown classic against DGN: 1-2

(Story)

May 08, 2017

It's a no-brainer: mental and physical health should be treated the same

(Story)

May 02, 2017

Weekly Preview May 1 – 5

(Story)

Apr 10, 2017

Weekly Preview April 10 – 14

(Story)

Apr 04, 2017

DGS transitions from ACT to SAT

(Story)

Mar 17, 2017

Musical deserves more attention

(Story)

Mar 10, 2017

DGS Annual Masque and Gavel Talent Show

(Story)

Feb 16, 2017

How to make Oreo bark

(Story)

Feb 14, 2017

Teacher Tuesday: Lauren Berg

(Story)

Jan 27, 2017

Weekly Preview January 30 – February 3

(Story)

Jan 17, 2017

Vanessa Copeland sets sights on Stanford

(Story)

Jan 10, 2017

Dancing around the world: Megan Guardi's journey through Irish dance

(Story)

Dec 02, 2016

Man on the street: Favorite Christmas song

(Story)

Nov 18, 2016

Freshman Friday: Ben Skibbe

(Story)

Nov 18, 2016

Jazz band's first concert of the year

(Story)

Nov 01, 2016

Man on the street: Cubs or Indians?

(Story)

Oct 31, 2016
Oct 17, 2016

This week's events: October 17- October 21

(Story)

Oct 14, 2016

Girl's varsity volleyball: DGS vs Willowbrook

(Story)

Oct 13, 2016

Boys soccer team works their way to the top

(Story)

Sep 28, 2016

DGS allows free admission

(Story)