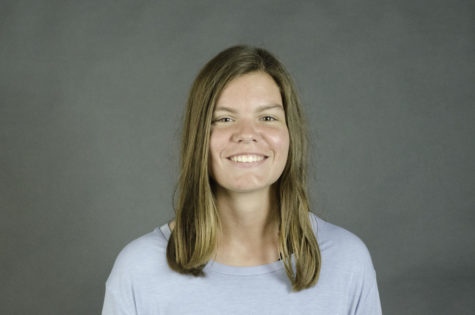 Sarah Major is a senior and works as a Print Co-Editor-in-Chief for the Blueprint. During the 2016-17 school year, she was the Print Features Editor for the Blueprint. Major won first place at the IJEA awards and an honorable mention award at NISPA for her spread on the DGS athletic code.
She has played on the DGS softball team since her freshman year and plays travel softball for Bombers Fastpitch Illinois. Major also manages the DGS football team in the summer and fall. Throughout high school, she has been involved in ACE, Mad Dash and National Honors Society.
In her tiny amount of free time, she enjoys blogging, re-watching Grey's Anatomy, bullet journaling, scrolling through her feed on Pinterest and adventuring with her boyfriend. When she graduates, Major plans to play college softball and major in psychology. 
Sarah Major, Print Co-Editor-in-Chief
May 18, 2018

Looking back: who I am

(Story)

May 18, 2018
May 18, 2018
May 11, 2018

Farewell Friday: Tessa Lawler

(Story)

May 11, 2018
Apr 30, 2018

Blueprint wins IHSA Journalism State Championship

(Story)

Apr 23, 2018

Running through the storm: seniors find sanctuary amidst mental illness

(Story)

Mar 21, 2018
Mar 20, 2018

Students come face-to-face with board after forum disappoints

(Story)

Mar 19, 2018

Weekly Preview: March 19 – March 23

(Story)

Jan 29, 2018
Jan 26, 2018

El Minya to Downers Grove: Girgis Abd finds home on wrestling mat

(Story)

Jan 09, 2018

Weekly preview: Jan. 8 – Jan. 12

(Story)

Dec 20, 2017

Gannaway's gigantic dilemma: a complicated college decision

(Story)

Dec 18, 2017

DGN music teacher resigns amid sexual misconduct allegations

(Story)

Dec 01, 2017
Nov 27, 2017

Weekly Preview: Nov. 27-Dec. 1

(Story)

Oct 26, 2017
Oct 12, 2017

Porcaro persists: DGS senior battles Hodgkin's Lymphoma

(Story)

Sep 20, 2017
Sep 11, 2017

Weekly preview: Sept. 11-Sept. 15

(Story)

May 31, 2017

Weekly Preview May 29-June 2

(Story)

May 30, 2017

How sitting on the bench became a home run

(Story)

May 13, 2017

Bullet journal shoots past your typical organizer

(Story)

May 11, 2017

Shortened summer isn't so bad

(Story)

Apr 20, 2017

Mayer's new album impresses

(Story)

Apr 10, 2017

ACT, SAT test self-worth

(Story)

Apr 07, 2017

Mustang trot runs to new location

(Story)

Apr 03, 2017

Weekly preview April 3 – April 7

(Story)

Mar 17, 2017

Volleyball team set up for 2017 success

(Story)

Mar 08, 2017

Sheeran shines with third studio album

(Story)

Feb 12, 2017

Baseball is back: Cubs and Sox Spring Training previews

(Story)

Feb 06, 2017

Weekly Preview February 6-February 10

(Story)

Jan 31, 2017

Please pave the path through Powers Park

(Story)

Jan 17, 2017

Cracking the code: comprehending the DGS code of conduct

(Story)

Jan 11, 2017

Sheeran's new singles spark 2017 music scene

(Story)

Jan 09, 2017

I Heart Aruba: photos documenting my vacation

(Story)

Dec 15, 2016

White Sox rebuild revitalizes fans

(Story)

Dec 01, 2016

"South Strong" strengthens DGS wrestling team

(Story)

Nov 21, 2016

Mayer's new single captivates listeners

(Story)

Nov 13, 2016

Pipilas races towards new goals following State Finals

(Story)

Nov 03, 2016

Throwback Thursday: Mr. Michalek

(Story)

Oct 28, 2016

Freshman Friday: Kat Neumann

(Story)

Oct 12, 2016

What's Up Wednesday: Clown Attacks

(Story)

Oct 06, 2016
Sep 27, 2016
Sep 22, 2016

Superfans are here and working hard

(Story)