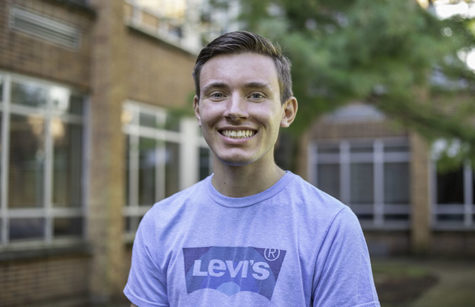 Paul Szmanda is a junior at DGS and an Online Co-Editor-in-Chief of the Blueprint.  This is his first year on the official Blueprint staff, but he has freelanced for the publication for the past two years.  Szmanda is also a varsity member on the DGS Speech Team, the Secretary of Politics Club, and a member of the Student Council.  In the spring, he runs sprints and hurdles on the Track & Field team.
In addition to English, Szmanda is fluent in Polish.  Over the summer Szmanda visited his family in Poland for the tenth time, also visiting Auschwitz-Birkenau and hiking in the Tatra mountains with his uncle.
In his free time, Szmanda enjoys riding his bike, having a personal record of 70 miles in one day.  In addition he has a hobby of fishkeeping, tending to his two saltwater and freshwater aquaria. Szmanda also volunteers at the West Suburban Community Pantry on Saturdays.
Szmanda is still deciding on colleges.  He wants to major in communications- and politics-related topics.
Paul Szmanda, Online Co-Editor-in-Chief
May 19, 2019
May 13, 2019

Yearbook distribution begins Wed. May 15 in cafeteria

(Story/Media)

Apr 30, 2019

Volleyball Q&A with senior Max Hlavin

(Story)

Apr 29, 2019

Weekly Preview: Week of April 29

(Story)

Apr 16, 2019

Erika's Lighthouse will highlight mental health at this year's philanthropy assembly

(Story)

Apr 08, 2019

Lesser known clubs find their purpose

(Story/Media)

Mar 22, 2019

Senior assassins reboots before break

(Story)

Mar 20, 2019

Downers Grove village council is awarded for stormwater management at March 19 meeting

(Story/Media)

Mar 22, 2019
Feb 19, 2019

DGS Chess competes at state tournament

(Story)

Feb 05, 2019

Darien discusses referendum, Sterigenics at city council meeting

(Story/Media)

Jan 23, 2019

Middle-schoolers jam out at Jazz Cafe

(Story)

Jan 04, 2019

Freshman Friday: Sara Mekhail

(Story)

Dec 13, 2018

Video News: Dec. 14, 2018

(Story)

Dec 11, 2018
Nov 30, 2018

No phone call, no relief

(Story/Media)

Nov 27, 2018

Weekly Preview Nov. 26-30

(Story/Media)

Nov 24, 2018

ALICE arrives at DGS

(Story/Media)

Nov 16, 2018
Oct 15, 2018

Weekly Preview: Oct. 15 – Oct. 22

(Story/Media)

Oct 04, 2018

Roskam Visits AP Government Classes

(Story)

Oct 04, 2018
Oct 04, 2018

Nike failed at correctly representing their brand by choosing Kaepernick

(Story)

Sep 17, 2018

3 Corners, 4 stars

(Story/Media)

Sep 11, 2018

Say bonjour a Madame Reuillon

(Story/Media)

Sep 26, 2017

Q & A with Lindsay Morton

(Story)

Sep 26, 2017

A text-marking tragedy

(Story)

Dec 12, 2016

Q&A with Mr. DeLay

(Story)