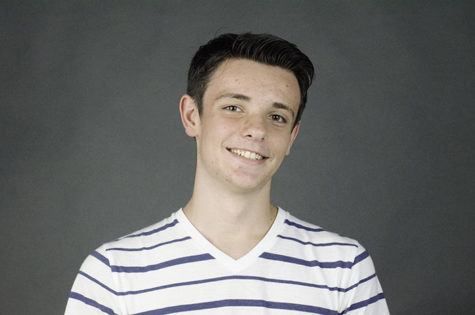 Matthew Hollendonner is a senior at DGS and is the business manager of the 2017-2018 Blueprint. Matthew was a part of Key Club which is where he developed his drive to help others, Hollendonner spends any available time helping neighbors and family.
The last two years he has come in early to meet with teachers to reach his academic goals and to expand his knowledge. Hollendonner enjoys watching older shows like the sitcom "Friends," spending time with family and enjoys being disappointed by the Chicago Bears on Sundays.
Schools of interest include, DePaul, ISU, UW Madison and University of Whitewater Wisconsin. He is a huge NFL fan who loves to read about the most recent news that pertains to football and he enjoys reading in general. Hollendonner's  favorite player and role model is Russell Wilson, his story and uprising always reminds Hollendonner how to persevere.
Matthew Hollendonner, Business Manager
May 22, 2018

Dueling perspectives: voting age

(Story)

May 22, 2018

Vaping: it's just like, the coolest

(Story)

May 18, 2018

Looking back: the best 4 years?

(Story)

May 16, 2018

Kaitlyn Hopp: A hop, skip and a jump away from the pool

(Story)

Apr 19, 2018

Throwback Thursday: Tara Dellutri

(Story)

Apr 13, 2018

IHSA adopts Boys' Lacrosse as newest sport

(Story)

Mar 21, 2018
Mar 15, 2018

Baseball and softball ready for swingin' trips

(Story)

Mar 12, 2018

The real 'promblems' men face

(Story)

Mar 12, 2018
Mar 05, 2018

Weekly preview: March 5 – Mar. 9

(Story)

Feb 08, 2018

Babies make me cry

(Story)

Jan 30, 2018

Superstition superpower

(Story)

Jan 12, 2018

Freshman Friday: Nathan Gustafson

(Story)

Jan 12, 2018

Chromebooks? More like Chromebad

(Story)

Jan 08, 2018

Gonzales has achieved the "American Dream"

(Story)

Dec 19, 2017

It's starting to feel a lot like birthday

(Story)

Dec 14, 2017

December 15, 2017

(Story)

Dec 01, 2017
Oct 12, 2017

DGS battles crosstown rival on Oct. 13

(Story)

Sep 27, 2017

Pros and cons: Abraca-dance theme

(Story)