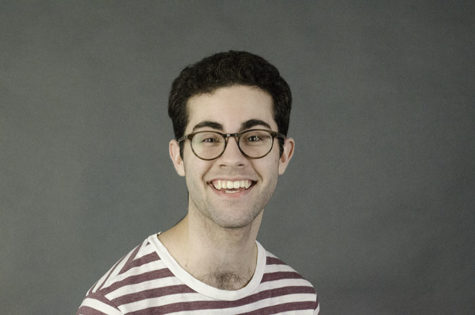 Jonah Ocuto is a senior at DGS and the Video News Director for the Blueprint. He has been a member of the Drama Club for four years and is going into his third year with the Speech team. Ocuto loves movies and theater, and he wants to go to college to study acting and journalism.
Ocuto placed 2nd in Dramatic Duet Acting at the IHSA State Speech Tournament and has also placed top 15 and top 30 respectively at the national level for Prose Reading and Expository Speaking. He has received multiple IJEA awards for his review writing, and placed 4th in Headline Writing at the IHSA State Journalism Tournament.
One of his life goals is to travel to New Zealand to visit the set of the Shire from Lord of the Rings. His favorite movie is "2001: A Space Odyssey," and his favorite TV shows are "Game of Thrones" and "Twin Peaks."
Jonah Ocuto, Video News Director
Jan 25, 2019
May 18, 2018
May 18, 2018
May 11, 2018
May 04, 2018

Katie Anthony: DGS' first-ever All-State journalist

(Story)

Apr 23, 2018

Administration holds open-discussion forum

(Media)

Apr 17, 2018

Top ten Tuesday: words I use excessively but don't know the meaning of

(Story)

Mar 23, 2018

Jonah Ocuto documentary: What is most important is what is invisible

(Story)

Mar 23, 2018
Mar 19, 2018

School safety forum leaves students with unanswered questions

(Media)

Mar 14, 2018

622 DGS students turn out for nation-wide walkout

(Story)

Feb 26, 2018

The Case of the Crush Canz

(Story)

Feb 14, 2018
Feb 06, 2018

Taco Bowls: a DGS Tragedy

(Story/Media)

Feb 05, 2018

Discover DGS: fitting in

(Media)

Jan 29, 2018
Jan 26, 2018

El Minya to Downers Grove: Girgis Abd finds home on wrestling mat

(Media)

Jan 12, 2018

Haywood heads Illinois High School Theatre Festival

(Media)

Jan 12, 2018

A Jonah Ocuto Short: The Issuez

(Story)

Dec 22, 2017

A Jonah Ocuto short: commas go inside quotations

(Story)

Dec 15, 2017

The confidence conundrum

(Story)

Dec 14, 2017

December 15, 2017

(Story)

Nov 21, 2017

November 21, 2017

(Story)

Nov 16, 2017

Throwback Thursday: Zach Kuhn

(Story)

Nov 06, 2017

Thor ragna-rocked my world

(Story)

Nov 03, 2017
Oct 26, 2017
Oct 24, 2017

Halloween fun fair fast approaching

(Story)

Oct 11, 2017
Sep 27, 2017

2017 Homecoming court announced

(Story)

Sep 22, 2017

Broadcast News: Sept. 22

(Story)

May 10, 2017

"Guardians of the Galaxy Vol. 2" continues Marvel's success

(Story)

May 01, 2017

The perfect movie theater for people that don't care about movies

(Story)