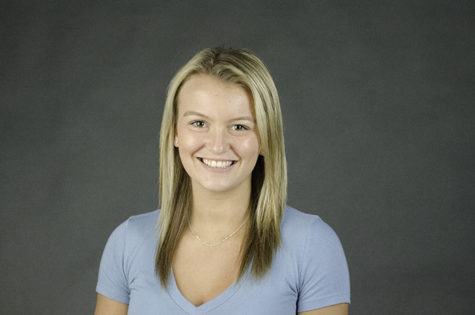 Jayna Bardahl is a senior at DGS and one of the Print Editors-In-Chief for the Blueprint. During the 2016-2017 year Bardahl worked as the Print News Editor on the Blueprint staff. She is also involved in the varsity cheerleading team, ACE club, English peer tutors, and P.E. leaders.
In 2017 Bardahl was awarded first place for front page layout by IJEA and also placed fourth in yearbook double page layout at the IHSA Sectional Journalism Tournament.
Bardahl plans on attending a Big 10 University for college and hopes to pursue a major in journalism or something with communications.
Her favorite place to be is in the city of Chicago. Her favorite season is fall because of her love for Friday night football games. In her free time she enjoys Netflix, listening to her favorite music and spending time with her friends and family.
Jayna Bardahl, Print Co-Editor-in-Chief
May 18, 2018

Looking back: lessons learned in high school

(Story)

May 18, 2018
May 16, 2018
May 11, 2018
Apr 26, 2018

DGS signing day features 29 student athletes

(Story)

Mar 22, 2018

DGS student charged with Class 4 felony

(Story)

Mar 22, 2018

Lueken scores scholarship to Colgate University

(Story)

Mar 21, 2018

Girls' soccer kicks their way into the 2018 season

(Story)

Mar 21, 2018
Feb 27, 2018

Fifth annual Pizza Wars set to take place at DGS

(Story)

Feb 14, 2018
Feb 01, 2018

Davis faces elbow dislocation after bar accident

(Story)

Jan 29, 2018

Weekly preview: Jan. 29 – Feb. 2

(Story)

Jan 29, 2018
Nov 21, 2017

A face behind stage IV lung cancer: Moroney's moving story

(Story)

Nov 17, 2017

Boys basketball has high hopes for another shot at the conference title

(Story)

Nov 06, 2017

Weekly preview: Nov. 6-Nov. 10

(Story)

Nov 03, 2017
Oct 26, 2017
Oct 25, 2017

Costumes aren't just for kids

(Story)

Oct 04, 2017

Former NBA player Chris Herren talks on his battle with substance abuse

(Story)

Jun 01, 2017

To the class of 2018

(Story)

May 08, 2017

Week preview May 8-12

(Story)

May 04, 2017
May 03, 2017

DGS global connections classes support refugee families

(Story)

Apr 13, 2017

"13 Reasons Why" is the best new Netflix series

(Story)

Apr 13, 2017

Blackhawks make up for flying puck injury

(Story)

Mar 22, 2017

Chicago empty your bank accounts: Lollapalooza 2017 is officially on its way

(Story)

Mar 17, 2017

DGS students share their spring break plans

(Media)

Mar 17, 2017

Philanthropy assembly plans to spread awareness on significance of Special Olympics

(Story)

Feb 09, 2017

February 10, 2017

(Story)

Feb 02, 2017

"Twilight" breaks barriers of traditional black history month productions

(Story)

Jan 17, 2017

How much do finals really benefit students?

(Story)

Jan 17, 2017

Pizza Wars promises teachers funds

(Story)

Jan 09, 2017

Prepare for the surprises 2017 is bringing along

(Story)

Dec 07, 2016

(Rein) Dear parents, don't leave my birthday presents under the tree

(Story)

Dec 01, 2016
Nov 30, 2016

ACE field trip teaches influential leadership techniques

(Story)

Oct 31, 2016

Man on the street: Halloween celebration

(Story)

Oct 31, 2016

Fright Fest terrifies guests while accomplishing success

(Story)

Oct 20, 2016
Oct 13, 2016

Throwback Thursday: Mr. Hoovel

(Story)

Sep 30, 2016

Teaching becomes a passport to traveling

(Story)

Sep 27, 2016

Homecoming Week: September 26-October 1

(Story)

Sep 23, 2016

Heat causes nerves for 2017-2018 schedule change

(Story)

May 26, 2016

New solar panels to be installed at DGS this summer

(Story)