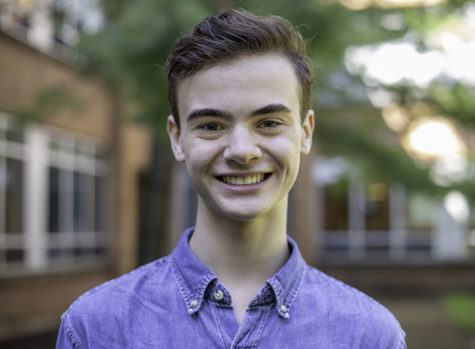 Jacob Casella is a junior at DGS and is the Social Media Director for the Blueprint. He has been a member of the speech team at DGS since his freshman year. Casella competed at the IHSA State Final in speech his sophomore and junior years. He is also a member of the Madrigal Singers at DGS; part of the drama club, Masque and Gavel and is in NHS.
Casella would like to attend University of Texas at Austin, University of Michigan or University of Wisconsin Madison and would like to major in a communications/journalism field. In his little spare time, he enjoys going shopping at the Oakbrook Mall and watching VH1's
RuPaul's Drag Race
. Casella also has an obsession with Dolly Parton, and he was the country-icon for Halloween in 2017.
Casella volunteers as an English tutor at DGS. He is described by his friends and family as "a lot," "loud," and "extra." Though Casella is very "extra," he is not afraid to be serious when needed to, and he loves to conquer a challenge.
Jacob Casella, Social Media Director
May 19, 2019
May 15, 2019

Q&A: Freshman year expectations vs. reality

(Story)

May 08, 2019

Horoscopes to describe your summer

(Story/Media)

May 06, 2019

DGS says au revoir to Madame McDonnell

(Story/Media)

Apr 30, 2019

Top 10 Tuesday: Pets

(Story/Media)

Apr 24, 2019

Move over senioritis, junioritis is here

(Story/Media)

Apr 10, 2019

The SAT: Who wants to start a DGS rowing team?

(Story/Media)

Apr 02, 2019

District 58 approves new superintendent at April 1 meeting

(Story/Media)

Mar 22, 2019
Mar 22, 2019

Fake Insta, real self

(Story/Media)

Mar 04, 2019

A love letter to Diet Coke

(Story)

Feb 25, 2019

Weekly Preview: Feb. 25-March 1

(Story/Media)

Feb 21, 2019

I hated my identical twin brother — until he started dating my best friend

(Story)

Feb 13, 2019

Snow brings out the worst in me

(Story)

Jan 17, 2019

I have the voice of a 10-year-old girl — on helium

(Story)

Jan 16, 2019

Downers Grove Village Council meeting recap

(Story/Media)

Jan 14, 2019

I want AirPods so people like me more

(Story/Media)

Jan 10, 2019

New Year, same you– honey, resolutions fool no one

(Story)

Jan 08, 2019

Top 10 worst trends of winter break 2018

(Story)

Dec 18, 2018

Why I love final exams

(Story/Media)

Dec 13, 2018

Video News: Dec. 14, 2018

(Story)

Dec 03, 2018

Canada Goose jackets: NOT fun and flirty

(Story/Media)

Nov 16, 2018
Nov 16, 2018

Video News: Nov. 16, 2018

(Story)

Nov 09, 2018

DGS (sub)urban legends: fact or fiction?

(Story/Media)

Oct 30, 2018

Top Ten Tuesday: La Croix

(Story/Media)

Oct 22, 2018

Dr. Thiele discusses MFP designs at Oct. 17 meeting

(Story/Media)

Oct 18, 2018

Oct. 14 School Board meeting recap

(Story/Media)

Oct 18, 2018
Sep 25, 2018

Top 10 things to watch on Netflix in the fall

(Media)

Sep 25, 2018

Girls' cross country team strides towards success

(Media)

Sep 21, 2018

'Dad' clothes take DGS by storm: don't be an idiot when partaking

(Story)

Sep 17, 2018

DGS is 'hopeful' to have new BluePoint system active by end of month

(Story/Media)

Sep 12, 2018

Teachers, follow formal email etiquette or don't expect me to

(Story/Media)