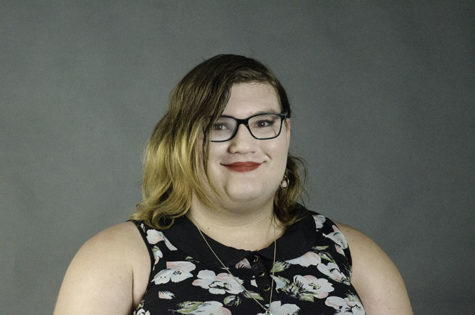 Elizabeth Rose Szpytek (they/them/theirs or she/her/hers) is a senior at Downers Grove South, and—for reasons still unknown—oversees the online opinions section for the Blueprint. Szpytek, a self-described "genderqueer woman," is passionate about fighting the cissexism, transmisogyny and sexism that is ingrained into our society. She is a youth leader at Transcend, a trans youth group in Naperville. They also participate in their high school's peer-tutoring program.
Their free time is mostly spent annoying old geezers at stoplights by blasting bad pop punk out her car's speakers and writing (as well as perpetually editing) short stories. Szpytek tries to alleviate the infinite monotony of suburbia by escaping into film, video games and podcasts. 
They aspire to have a stable career in
something
although exactly what is unclear. Just not math.
Elizabeth Rose Szpytek, Online Opinions Editor
May 21, 2018

Looking back: a fun ride

(Media)

May 21, 2018

Looking back: high school sucks

(Story/Media)

May 18, 2018

Looking back: the best 4 years?

(Media)

May 09, 2018

Important messages from the constellations: weekly horoscope

(Story)

May 08, 2018

Top 10 urgent vaccines Juniors need to get before the start of their Senior year

(Story)

Apr 18, 2018

100% fact based journalism: weekly horoscopes

(Story)

Apr 10, 2018

Top 10: Emojis

(Story/Media)

Mar 22, 2018

Referendum for D99 renovations passes

(Story)

Mar 16, 2018

Vampires: sexy or scary: an investigation: the article

(Media)

Mar 14, 2018

622 DGS students turn out for nation-wide walkout

(Story)

Mar 12, 2018

A very serious article on a very serious topic with a very serious image

(Story/Media)

Feb 06, 2018

Top Ten: songs to listen to when you're sad but don't want to admit it to yourself so you just go for a late night drive and cry

(Story/Media)

Jan 29, 2018
Jan 26, 2018

Girls bowling 'strikes' attention at DGS

(Story)

Jan 26, 2018

A fat chick's guide to loving your fat chick body

(Story)

Dec 01, 2017

Refusing invisibility

(Story)

Nov 07, 2017
Nov 01, 2017

Actual, factual, real news you can use – weekly horoscope

(Story)

Oct 26, 2017
Oct 25, 2017

Not your average bore-oscope: you won't believe Libra's predictions

(Story)

Oct 20, 2017

Racism is real: here's what we can do to change that

(Story)

Sep 25, 2017

Air Conditioner: Gone but not forgotten

(Story)

Sep 20, 2017

Creative but costly: Conditioners cool classrooms

(Story)