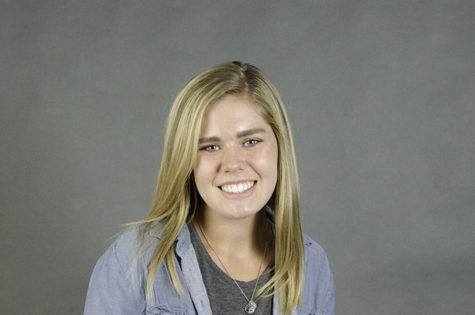 Barbara Collins is a senior at DGS. This year she is one of the online co-editor-in-chief of the Blueprint.
Collins enjoys being a captain of the DGS girls varsity tennis team, and has played on the team for four years. She is involved in Earth Action Club, P.E Leading and National Honors Society.
Collins keeps herself busy with schoolwork; this year she is enrolled in AP Statistics, Calculus BC and AP Environmental Science. 
When she isn't at school or playing tennis, you can find Collins studying, watching trashy reality TV shows or hanging out with her friends.
Collins is considering pursuing a major in business and communications. Currently, she hopes to attend University of Michigan or University of Washington.
Barbara Collins, Online Co-Editor-in-Chief
May 18, 2018
May 17, 2018

Throwback Thursday: Anna Buie

(Story)

May 11, 2018
May 04, 2018

Math team sends 13 members to state competition

(Story)

Apr 23, 2018

Administration holds open-discussion forum

(Story)

Apr 16, 2018

Weekly Preview: April 16 – April 20

(Story)

Mar 23, 2018

Lollapalooza? More like Holla-Palooza: A 2018 lineup breakdown

(Media)

Mar 22, 2018

Administration apologizes after 'missing the mark' with forum

(Story)

Mar 21, 2018
Mar 20, 2018

Students come face-to-face with board after forum disappoints

(Story)

Mar 19, 2018

School safety forum leaves students with unanswered questions

(Story)

Mar 12, 2018
Mar 12, 2018

Speech team rises to the top as back-to-back state champions

(Story)

Mar 09, 2018

DGS celebrates Respect Week

(Story)

Feb 27, 2018

School-wide rumor causes heightened security and schedule change

(Story)

Feb 19, 2018

Weekly preview: Feb. 19 – 23

(Story)

Feb 14, 2018
Feb 09, 2018

Freshman Friday: Gianna Marisco

(Story)

Feb 05, 2018

Discover DGS: fitting in

(Story)

Jan 31, 2018

Riots and resistance: DGS drama presents annual black history play

(Story)

Jan 29, 2018
Jan 26, 2018

El Minya to Downers Grove: Girgis Abd finds home on wrestling mat

(Media)

Jan 17, 2018

DGS graduate charged with first degree murder

(Story)

Jan 16, 2018

Weekly preview: Jan. 15 – Jan. 20

(Story)

Jan 12, 2018

Haywood heads Illinois High School Theatre Festival

(Story)

Dec 18, 2017

DGN music teacher resigns amid sexual misconduct allegations

(Story)

Dec 14, 2017

D99 Hoops shoots for bright futures

(Story)

Dec 04, 2017

Weekly preview: Dec. 4–Dec. 8

(Story)

Nov 21, 2017

November 21, 2017

(Story)

Nov 20, 2017

Weekly preview: Nov. 20-Nov. 24

(Story)

Nov 08, 2017

Operation Snowball creates 'a community of caring'

(Story)

Nov 03, 2017

Ann Lichaj: a look at every senior's best friend

(Story)

Oct 30, 2017

Weekly preview: Oct. 30–Nov. 3

(Story)

Oct 26, 2017
Oct 20, 2017

Freshman Friday: Nick Schmidt-Bailey

(Story)

Oct 06, 2017

Several dance and football team members kneel for national anthem

(Story)

Oct 21, 2016

New game rules implemented at DGS

(Story)

Oct 21, 2016

Katie Stapleton strives for greatness

(Story)