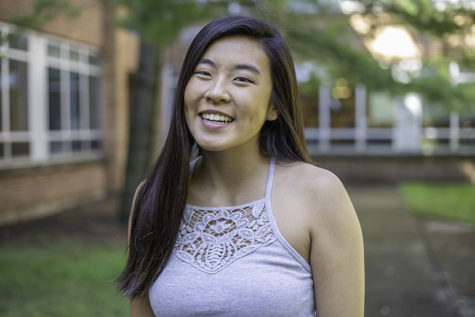 Ariel Oh is a sophomore at DGS and a Copy Editor for the Blueprint. She is a multi-sport athlete, participating in cheerleading and softball at DGS. She also plays for the Downers Grove Outlaws softball team.
Oh is involved with different activities such as Superfans, ACE and Maddash. She hopes to eventually be involved in the National Honors Society.
In her free time, she enjoys hanging out with her friends, relaxing while listening to music as well as going to concerts and festivals. Her favorite TV show is "Grey's Anatomy."
Oh's potential college choices are the University of Michigan and New York University where she will consider majoring in social psychology. She would very much like to play college softball; her love for the game grows everyday.
Ariel Oh, Copy Editor
May 17, 2019

Senior Send-off: Gabby Boone

(Story)

May 09, 2019

Throwback Thursday: Shiann White

(Story)

Apr 30, 2019

Boys track changes routine to seek improvement

(Story)

Apr 25, 2019
Apr 12, 2019

Senf trots across the finish line as the winner of this year's 5K

(Story)

Mar 22, 2019

Best of both lives: How I accepted my identity

(Story/Media)

Mar 22, 2019
Mar 19, 2019

Show ponies: Mustangs dazzle at talent show

(Story)

Feb 27, 2019

School spirit assembly recap

(Story/Media)

Feb 19, 2019

Weekly Preview: Feb. 18 – Feb. 22

(Story/Media)

Jan 29, 2019

Bringing friendship into a performance: winter guard

(Story/Media)

Jan 29, 2019
Jan 29, 2019

Guiding students to better decisions

(Story)

Dec 18, 2018

Elevators leave students concerned: the functioning of DGS elevators

(Story/Media)

Dec 17, 2018

DGS boys' basketball wins against rivalry DGN through an optimistic comeback

(Story)

Nov 28, 2018

Horoscope 11/28

(Story/Media)

Nov 20, 2018

Blueprint Girl–Thanksgiving Special

(Story)

Nov 16, 2018

Fundamentals of fighting

(Story)

Nov 16, 2018
Nov 08, 2018

Throwback Thursday: Rah-Shon Murff

(Story)

Nov 06, 2018

Top Ten Tuesday: ways to procrastinate doing homework

(Story/Media)

Sep 25, 2018

Girls' cross country team strides towards success

(Story)

Sep 14, 2018

DGS paints a picture that lacks color

(Story)

Sep 11, 2018

An open letter to the freshman class

(Story/Media)