Three Strong, Gymnastics Team Places Third at Sectionals
Hang on for a minute...we're trying to find some more stories you might like.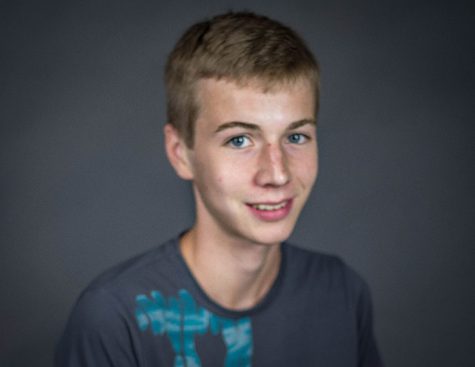 More stories from Rylan Dreyer
On May 4, 2017, the boys varsity gymnastics team placed third at the Lyons Township sectional meet in La Grange. This varsity team that placed third consists of senior Brock Herion, freshman Beau Herion and sophomore Jacob Klamer. Though only three performers strong, this trio won the West Suburban Gold Conference Championship this year, and had one state qualifier in Beau Herion.
Though having success as of late with these three varsity athletes, there have been setbacks during the competitive season due to this low number. Senior Brock Herion describes the impact that having only three varsity athletes has had on the team this year.
"We've definitely been challenged. Near the beginning of the year, Beau got a minor concussion and had to miss out on our meet at Leyden. I was also sick that day but went and competed anyways. That was definitely reflected in our team score later that night," Herion said.
Though there only may be three athletes seen on varsity this year, there are many more junior varsity athletes that will be ready to move up to the next level next year, as well as a strong base of newcomers. Coach Zachary Cipra addresses the depth of the gymnastics team for the upcoming years.
"We had an excellent varsity team this year and we have a ton of potential to grow into a bigger and more successful gymnastics team. While we will be losing some of our varsity team, we have a lot of new gymnasts who have the opportunity to develop into a very competitive team in two or three years," Cipra said.
Though they may be seen as weaker by only carrying three athletes on the varsity level as of this year, and losing one of the three next year, the gymnastics team is confident in what they can bring back in this upcoming year and hopes to create a truly competitive team. Anybody who wants can join the gymnastics team next year and get involved. Senior Brock Herion gives some pointers on what students can do to get involved.
"I would say see if there is a club near you and maybe go to a few open gyms. There are two [clubs] in Downers Grove, Premier and Ariel. Or try out the north-south summer camp. The big hold-up for people joining is that they don't think they'll be good at it, or that it just isn't for them. I always tell people to give it a chance. It's a lot of fun, you learn a lot of really cool, impressive skills and it's a great team atmosphere," Herion said.