Author Jason Reynolds opens up about his influences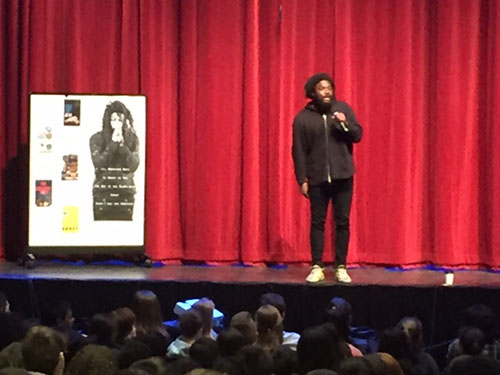 Hang on for a minute...we're trying to find some more stories you might like.
Q: As a kid did you always know you wanted to become an author?
A: No. I wanted to be Michael Jordan. I wanted to be a ball player, an athlete. I knew I loved that world [of spoken word] and I was a "part of that world as a young person and that was cool. So I was like maybe I can learn to make something of this," but writing novels? No. I swore to myself at 16 that I would never write a novel. But the stories that I wanted to tell I couldn't tell in poetry. And honestly, I just realized that my biggest hangup with writing novels was that they were too academic. School had sort of ruined that for me, and so when I got older, maybe 26 or 27, I decided to write the first novel. It got much easier because I let myself off the hook; I did what I wanted to do.
Q: How does it feel to be an award winning author?
A: Man, surreal. I mean look, the awards and everything are crazy, but that's not what it's about. You never really feel like it's you. All of my awards are at home, stacked up on a back wall. It's cool, but what's more important to me at the end of the day is that people are reading these books. I'm more fascinated not by the awards, but when I find out that schools are using these books for curriculums, or when I show up to schools and everyone's read these books, or librarians are like "we can keep these books in libraries", or bookstores that are like "we can't keep these books in the store". Those are the things where I'm like "Wow, there are people who care about things that I thought only I cared about". So you have this moment where you feel a unique connection.
Q: Are there any books or movies or other artists that inspire you to continue writing like you do?  Where do you get your ideas from?

A: Lately? "Get Out". It is phenomenal. It's a game changer. Jordan Peel knows his stuff; listen to his interviews for Get Out. He talks about his background and his history, and what he calls "social thrillers". So, horror movies that we all thought were horror movies [as kids], you'll see as an adult that they're actually about, like, feminism. Get Out is all about race relations in America, and it's genius. So, movies are always really inspiring. It's a passive way that I can still study plot and character. It keeps things fresh and uses storytelling in a refreshing way. The other thing is, I'm a big music head. I'm a crazy, crazy audiophile. I grew up that way, so my family, my father, we're all big music people, so I listen to a lot of different kinds of music, and I try to figure out the narrative in that.
Q: "All American Boys" takes the perspective from two different boys — Rashad and Quinn. Often when thinking about race relations today, we hear stories from one perspective. What was your reasoning behind representing two in your story?
A: That's a good question. I think the "us and them" conversation is such a real one. And really, what we do in those discussions is miss the point because technically, if we're looking at this thing, at least those of us who are historically aware know that it leads nowhere. We know that it shouldn't be an "us vs. them", but an "us," and that we have to figure out how to fix this as an "us". When we talk about race in America, we usually talk about black people and brown people being victimized. We never talk about the role of the ally. We wanted to write this because we all have a role to play. Not just black folks and the Black Lives Matter movement, we also need — and my buddy talks about this all the time — we also need white people to talk to white people about racism. And until that happens, I'm not exactly sure we can move forward.
Q: What does speaking to high school students like us mean to you?
A: I think that the minute you disengage from the youth, you're done. You guys are at the forefront of every single social movement. Whether it be cultural, or political — it's you. It's smart to keep a hand on the youth of today. There's certain things that I just can not know unless you tell me, because you are the tastemakers. So, in order for me to continue to serve you, I have to listen to you. I can't write the books about things I don't know. So, in order to keep things authentic, I have to stay in touch with what's happening. So, I love coming to schools because here, I get to look in the faces of young folks. The other thing about it is, besides me researching, I just have love for you. I would much rather spend time with teenagers than old people. For two reasons: one, you're all hilarious, and two, your brains are firing in a different way. I don't think adults always understand that, so it's easy for us to dismiss you all. My job is to let you all know that we adults recognize your brilliance, and that we expect you to use that to change the world. You're all the most brilliant generation who has ever lived, but the issue is that you don't know it.
Q: If there was one thing you'd want to say to a high school student struggling with pursuing their goals, what would it be?

A: The one thing I would offer any young person is, we have to stop having the conversation of whether it will be easy or hard, and start having the conversation of whether you are going to do it or not. That's all that really matters. Either you're gonna do it, or you're not gonna do it — and if you're not gonna do it, then stop talking about it. Nothing is easy, but if you want it bad enough, you will do whatever it takes.