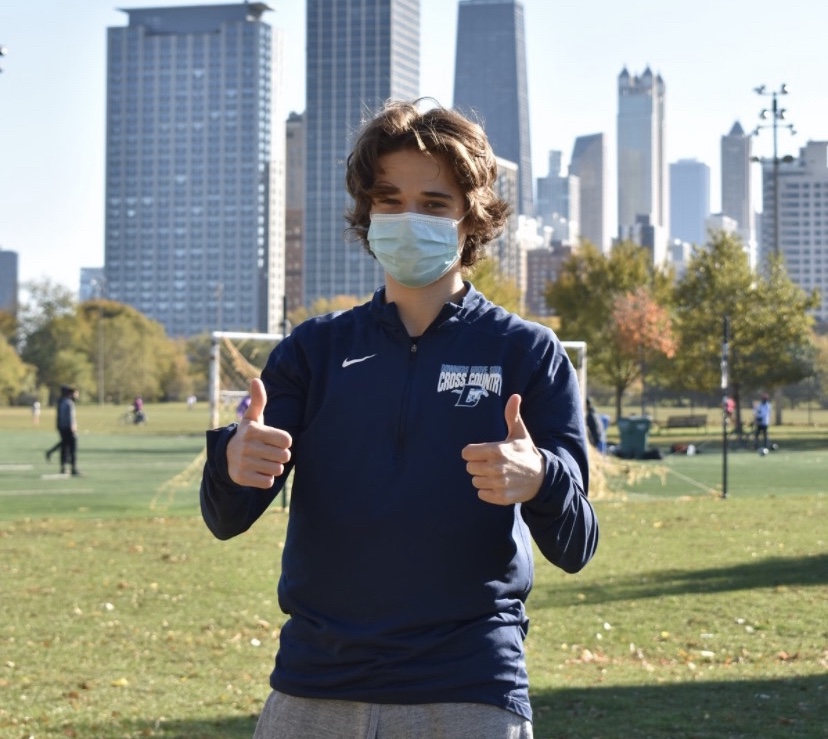 Photo Courtesy of Sean Senf
Taking his place among his competitors, Tim Neumann stood at the starting line for the 1600 meter race, stretching out his legs, warming up his muscles. He saw the lines of the track stretch out in front of him, knowing they would lead him to the finish line. What he didn't know was that in crossing the finish line, Neumann would come in with a time of 4 minutes, 18 seconds, and 48 milliseconds, becoming the record-holder for DGS's fastest indoor 1600 meter time with the second-fastest time in overall school history.
In order to break the record, Neumann committed himself to a training schedule that included preparing for races both during practice and outside of it. Neumann details what the past four months of conditioning have included.
"These past four months, in preparation for breaking the record, I've been averaging running 60-70 miles per week. I usually have two workouts a week, which involves doing intervals of running up a hill or laps on the track and I also do a weekly long run on Saturday, which is usually 13 miles. Everything in between is usually just easy runs with my teammates, and then after practice, we do core workouts and weight lifting depending on the day," Neumann said.
Breaking the record was the culmination of not only Neumann's hard work but also a chance for him to connect with runners who came before him. Neumann shares how past holders of the 1600 meter record contacted him to congratulate him and celebrate his historic moment.
"It felt really good to break the record, it definitely validated all the hard work I put over the past few months and years. It's also really special to know how hardworking and talented the runners that held the record before me were; once I broke it, they all texted and congratulated me. It just goes to show how supportive and involved the team is, even with the alumni," Neumann said.
In spite of his record-breaking talent, Neumann was not originally interested in track and field. During the first half of his freshman year, he played soccer, a sport which he explains eventually led him to find a passion for running and a place on the track team.
"I didn't realize it at the time, but running around on the soccer field made me pretty good at running, and Coach Caldwell was always trying to get me to join. After running track my freshman year I realized that the team atmosphere was really great and I really enjoyed the sport, so I quit soccer and joined cross country the next season," Neumann said.
Neumann contends that his affinity for running started much earlier than his freshman year, starting out as an underlying presence in his childhood.
"Looking back on my childhood, I think I just really enjoyed running around, whether it was on the soccer field or outside. As a result, running has always been pretty natural for me," Neumann said.
A part of Neumann's success came from his own willingness to train outside of practice. Once the cross country season ended, Neumann and a few friends decided to get together and keep training, no matter what the weather conditions were. Neumann shares how this camaraderie and commitment to improving together played a role in his breaking of the record.
"I have some really fond memories of this past winter, because me and my friends all met up, regardless of whether it was snowing, raining or dark outside. I definitely could not have broken the record without my teammates," Neumann said.
As DGS cross country and track and field coach Brian Caldwell explains, teammates training together during winter is not uncommon. However, with COVID-19 restrictions and social distancing in mind, the idea of training together this winter became more challenging.
"Most winters there is a group of dedicated athletes that continue to train together, generally meeting right after school lets out; sometimes they'd train solo, but more often in a group. This year has made that more challenging between legitimate concerns regarding COVID-19 and just athletes trying to safely find times and places to run together," Caldwell said.
Despite these difficulties, Caldwell shares that Neumann has been "instrumental" in arranging for him and his teammates to train together. He also adds that during those workouts, Neumann usually stands out, coming out ahead of the team due to his faster pace.
"Tim has done a lot of the work on his own, but he's also been instrumental in organizing a small group of juniors that meet together occasionally to train. With that said, any time they are doing a harder workout, Tim is pretty much alone since he's running at a faster pace than everyone else. Even in cross country when we met as a team, his workouts generally ended up with him pushing by himself," Caldwell said.
Neumann's talent has not isolated him from his teammates, rather, it has pushed them to work harder. Junior Joey Pucillo, Neumann's teammate and friend, details how training alongside Neumann has motivated him to improve his own running skills.
"I can't help but respect him for it. I always wonder 'What pushes a guy like him?' Whatever the reason may be, it only means I have to train and race harder," Pucillo said.
Neumann's drive to improve has defined him as a member of the team. Caldwell shares how Neumann's mindset plays a role in shaping his goals and aspirations.
"Tim is one of the most intensely driven athletes I've had the privilege to work with in my nearly two decades in coaching. It's not, 'Wow, that was great, I'm really happy,' it's 'Ok, now I need to run even faster.' He isn't content being a really good runner, I really believe Tim aspires to be the absolute best and holds himself to high standards and expectations," Caldwell said.
While others may have remained content with breaking one-record, Neumann remains committed to pushing himself further, setting the tone for his future ambitions. Neumann details his goals for both the upcoming outdoor track season and the 2021 cross country season.
"My goals for the outdoor track season are to break the remaining outdoor records and hopefully win a state championship in the mile or 2-mile. For cross country my goals are to qualify for nationals and hopefully contend for a national title," Neumann said.
Now, looking forward to the next time he will cross a finish line in record-breaking fashion, Neumann reflects on the lessons he will carry off the track.
"I've learned that there are no shortcuts in running or really in life, and ultimately what you put into something is what you'll get out of it," Neumann said.