"Black Star" shoots to the top
Hang on for a minute...we're trying to find some more stories you might like.
More stories from Hannah Maes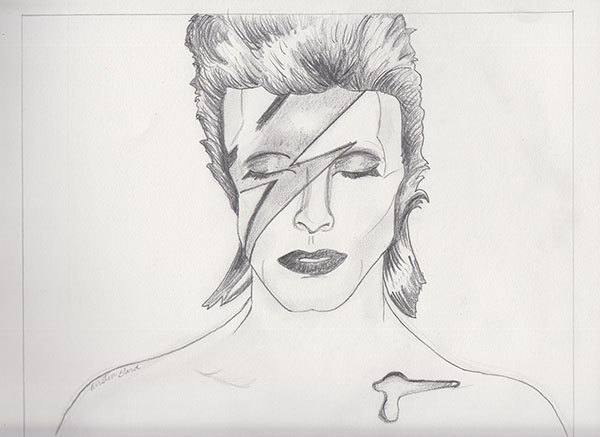 David Bowie passed away on January 10th, 2016, two days after the release of his new album "Black star," which was a musical experiment for Bowie, in which he explored new techniques and themes within his music. Bowie was one of the first musicians to explore gender identity and personas which he did through large theatrics and abstract themes for his music. Although he was not as popular with the young rebels of this generation as when he first debuted in the late 1960's, his bold and creative style took over the music industry and inspired many artists, including Lady GaGa, Arctic Monkeys and Kanye West.
"Black star" is Bowie's first number one album on the Billboard 200 chart, and for obvious reasons. All the songs on the album have clear jazz elements with the bold saxophone solos with guitar and keyboard accents, instead of Bowie's usual rock and roll. The overall theme of the album through the lyrics and music is dark and eerie, placing an emphasis on the afterlife.
Bowie was an early role model for staying true to yourself which was revolutionary in an era that had strict social norms. He scoffed at the people who tried to force him to play by the rules. In a 2002 60 Minutes interview Bowie said, "I'm just an individual who doesn't feel that I need to have somebody qualify my work in any particular way. I'm working for me."
Many artists have acknowledged that Bowie's fearless style has influenced them not just musically, but also on a personal level. Lady Gaga said on Twitter after the making of her 'Applause' video that was heavily influenced by Bowie, "He still runs my universe as well, like, every morning I wake up and I think, 'What would Bowie do?'"
Bowie's new album is his best yet with its completely unique sounds and daring themes. Bowie paved the way for modern ideals by rejecting social acceptance, and even though the star is gone he will continue to live forever, as he said in the 60 minutes interview, "I don't know where I'm going from here, but I promise it won't be boring."