Q&A: Freshman year expectations vs. reality
Hang on for a minute...we're trying to find some more stories you might like.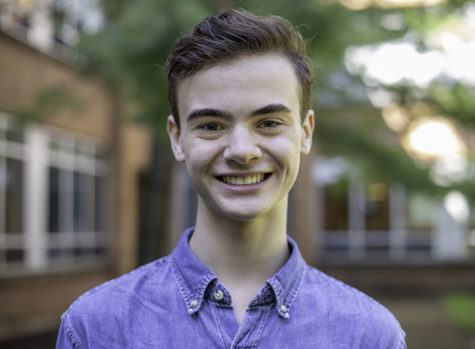 More stories from Jacob Casella
At the end of the school year, attention seems to be focused on the seniors. They are, of course, graduating in two weeks and this is their last week of class.
The class of 2019 is moving on to the next chapter in their lives, so it would only make sense for most of the light to shine on them. However, the end of the school year remains a significant time for each grade at DGS.
The class of 2022, current freshmen, have almost finished their first year of high school. When going to DGS, incoming freshmen hear rumors of how their year will be.
After (almost) finishing a year of high school, freshmen Alex Spang, Sammy Bachara and Deanna Eslit explain their expectations for DGS, versus the realities:
Q: How did you expect DGS to be like for your first year?
Sammy: I expected DGS to be a new start– a clean slate. I thought I would be able to make a whole new group of friends and completely change who I was in middle school. I wanted to reinvent myself.
Alex: I expected DGS to be so much harder than it actually is and for the teachers to be harder to talk to or get to know. I thought finals would be overwhelming and homework would leave me staying up until 3 AM every night.
Deanna: Honestly, I was kind of scared. I knew there would be a lot more people and a lot more going on and I wasn't sure if I would be able to keep up. But from what I was told, I expected the experience to be super fun.
Q: How has your first year lived up to these expectations?
Sammy: I realized that I couldn't just go to a new group of people who didn't fit into my personality. It was easier to stick to who I am and it made me much happier. DGS as a whole is a lot less scary than what I thought going into it. now that it's the end of the year I have a solid group of friends and I've made a voice for myself.
Alex: I feel that it's very similar to O'Neill [Middle School] and my other schools. High school is only as hard as you make it. So now I try my best to be productive and I am able to get to sleep early. I also feel that teachers are actually super easy to reach out to about schoolwork.
Deanna: I'm glad to say that my freshman year totally exceeded my expectations. I was able to make a ton of new friends and I'm so grateful for that. Especially with sports in high school, I was exposed to a ton of new competition and it's a different caliber of intensity than it is in middle school, so I learned just how much harder I have to work.
Q: How did the school work compare to what you were told it would be like?
Sammy:  It was a lot more challenging than I thought. I thought I could just come into school with my one friend from another school and hang out with her group and I'd be set for all four years. I realized that those weren't my type of people and I would be happier with people more similar to me. on the academic side, it was not as challenging as I thought. finals were rough, but I got through the first set and I'm hoping to make it through the next. I had to work a little harder to live up to teachers expectations but it wasn't unreasonable.
Alex:  It was also not as challenging as I expected because I was ready for so much, and it turned out to be so much closer than what I was used to.
Deanna: Looking at my freshman year, I'd say it was definitely not as challenging as I thought it would be. Not that it won't get harder, but I think I was too nervous for nothing. As long as I did my work and took charge of my grades I did fine.
Q: What experiences did you have that shaped your first year at DGS?
Sammy: My first year has been so much fun. Football games were the best start of the year because I met so many people and made a lot of friendships. Once speech season started, the fun never ended. I made so many amazing friends that I will have for forever. I met a lot of juniors that helped me get through this year, and somewhat raised me and it's been amazing and so much fun having so much positive influence. once it got to state season my friendships grew even more and then it was into children's play. I am so grateful for Masque and Gavel and all of my friends who are in it with me.
Alex: It was so much more fun than I thought it would be and through my sports and just classes I was able to meet so many people and make school fun, even with loads of work.
Deanna: I thought it was so much fun! I had high expectations and it met them. Especially with like school dances I had a really good time and I also think making those new friendships and being in different clubs let me get the most out of my first year here.
Q: What were you told would happen this year that did or did not?
Sammy: First, my brother told me he would throw pennies at me and that definitely didn't happen. my cousin told me that I would find my fit right away and I would be set with friends very quickly. It took me until children's play and state season in speech for me to really solidify friendships. A lot of people warned me about dress coding and I never really witnessed anyone get dress coded. Many people also told me that getting involved would really help and that was so true. By being involved with Masque and Gavel, my life has been so much better.
Alex: People always said freshman would be looked down upon or pennies would be thrown; however my experience was so much fun.
Deanna: Nobody ever threw pennies at me. Thank God. The upperclassmen are really chill.