DGS says au revoir to Madame McDonnell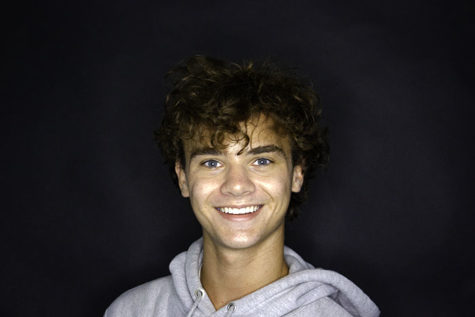 More stories from Jacob Casella
In four weeks Mary McDonnell will retire after 31 years of teaching French. In these upcoming weeks, she will teach her last units of French 2 and 3, administer her last final exams and say her last 'ding' as students write correct answers on their whiteboards in class games. She will tell DGS students her last stories of France and of her love for the language.
McDonnell taught 29 of her years at DGS, which she refers to as her 'first love.' For two years at the beginning of her teaching career, McDonnell taught at Waubonsie Valley High School in Aurora.
"I taught two years here, and then two years at Waubonsie Valley [High School]. There were 52 of us who got laid off.  Two years later I got a call back from DGS, as I was still in contact with the school and one of their French teachers moved away. So, I came right back. I loved my time at Waubonsie, but South is my first love," McDonnell said.
McDonnell's path to becoming a French teacher was a common one. McDonnell's first exposure to the French language was due to her sister.
"My older sister took French in high school, and I would help her practice her vocabulary for quizzes and stuff, and I thought it was always such a pretty language.  Then when I got to high school, I thought I'm going to college, and I need a foreign language. That was the only reason why, but then I fell in love with it once I started getting into it," McDonnell said.
Teaching French was not McDonnell's first plan. Like many college students, McDonnell was undecided for her first two years of school.
"I was at the end of my sophomore year in college, and they said you have to pick a major.  I was going to go into business, but the math was killing me. Well, I decided, I really like French, and I've continued to take it.  I'll do that; I'll study French. Then they said, 'well you can get a teaching certificate too,'" McDonnell said.
After student teaching, McDonnell knew that becoming a French teacher was the right path for her.
"I got such a kick out of the kids, and I thought, 'Nope, teaching is where I need to be,'" McDonnell said.
Being in the classroom and working with students has been McDonnell's favorite part of teaching at DGS.
"I love seeing the way a young person's perspective on life is being molded or being solidified at this time in a student's life," McDonnell said.
McDonnell herself has 'molded' the minds of students, helping them realize that studying French in the future was the correct path. Senior Mary Mulcahey is getting a double major in Global Communications and French next year at Loyola University in Chicago.
"I am double majoring in French and Global Communications, and Madame McDonnell played a really big part in figuring out that I wanted to go into that," Mulcahey said.
Current French teacher Sophia Reuillion took French with McDonnell at DGS. She was a student at DGS from 1999 to 2003.
"I remember my junior year Madame McDonnell sat us down and asked us what our plans were for college. I said that I love French. She made me realize, if you love French, study French and that can be your thing and you can teach French. So it was really here, junior year, that there was that lightbulb, oh I could study French, that could be my career and my future.  It's not just a hobby, it is an actual career path," Reuillion said.
McDonnell's energy in the classroom has been noted. Junior Genevieve Dufresne recalls McDonnell's positive energy in class.
"Madame McDonnell is encouraging and willing to be flexible. [She] makes wrong answers feel as if they are just a part of the process. encouraging people to try again and continue working towards French," Dufresne said.
Dufresne first met McDonnell in 2014, and has been impressed with her energy since then.
"I remember meeting with Madame McDonnell as she was my older brother George's teacher. I was impressed with Madame McDonnell's positivity, and never not impressed," Dufresne said.
Former French teacher and current DGS employee Isabelle Menke confirms this love of fun and positivity.
"She is really passionate about teaching French and having her kids get the love of the language. She is full of ideas. She is really really creative and provided a very fun experience for her students," Menke said.
A message of kindness and support is one that McDonnell has seen emerge at DGS.
"I feel like the past ten to 12 years, Downers South has become so much kinder as a community. We take care of each other.  It's like a tiny little city where we look out for each other whether you're in my class or not in my class, students and teachers, everyone seems to have an invested interest in making this the best place it can be.  And I love that. And it's always been in my mind, the best place to be, but it has become even more kind in the past years" McDonnell said.
Support for others is matched with support for McDonnell. In the classroom, McDonnell is remembered as being very fun. Mulcahey and Dufresne recall her love of games and fun to make the learning process more enjoyable.
"I loved the games we played in class. They have become almost iconic," Dufresne said.
"McDonnell would always say the phrase 'ding' if we got an answer right in a game. I loved it, and 'ding' almost became McDonnell's catchphrase," Mulcahey said.
Even as McDonnell's years have progress, Rueillion remembers her energy.
"She hasn't lost that spark and that smile and that cheer," Rueillion said.
Rueillion also described her experience in McDonnell's classroom.
"It was awesome. She loves French and she just makes it this fun and exciting experience.  As a student, you walked into her room and it was like leaving school and doing something really enjoyable for that hour. I guess she made you feel like it was easy, it was something that anyone could be good at, and we could all go to France– like it wasn't this impossible destination, and we all could get there," Rueillion said.
Traveling to the ultimate destination has been something that has inspired McDonnell. She recalls trips that she has gone on.
"I love to travel. I have been to France 15 times. My favorite [place] was staying in the South of France with a family, and I had the upstairs that was like a suite.  It had a bedroom and a bathroom and a balcony that overlooked the Mediterranean and looking the other way was the Alpes. Not bad, it was amazing. The trip was a lot of fun," McDonnell said.
McDonnell plans to continue to travel after retirement. She has also found new hobbies– like furniture decorating.
"I have gotten into restoring and upcycling things, and I like collecting furtive and all things creative.  I am a frustrated artist. I have dipped my toe into that and really like it, so I plan to spend my time pursuing that," McDonnell said.
In addition to upcycling, McDonnell also has plans to spend more time with family. She is originally from Iowa and plans to go back.
"In a couple of years, I might be moving to Iowa to spend time with my family– to see the nieces and nephews and sisters and brothers grow up," McDonnell said.
McDonnell proves her love for human connection.
She has touched the hearts of her colleagues and students at DGS. As she goes, she is wished the best.
Rueillion wishes her the gift of travel.
"I wish her the very best and happy retirement, and that I hope that she can use her time to continue to explore the world and live out all her dreams of France and the rest of the world, travel and see everything that she wants," Rueillion said.
Menke describes the 'ride' the two have shared.
"It's been quite the ride working together.  I really enjoyed all of the support she gave me. It has been awesome," Menke said.
McDonnell leaves DGS with reciprocated feelings that her students and staff have given her. Her positivity and spark have not been lost, as McDonnell feels the same feelings of youth and spark today.
"It has been a wild, fun ride, and it seems like I just started yesterday. It does. It really does," McDonnell said.