I have the voice of a 10-year-old girl — on helium
Hang on for a minute...we're trying to find some more stories you might like.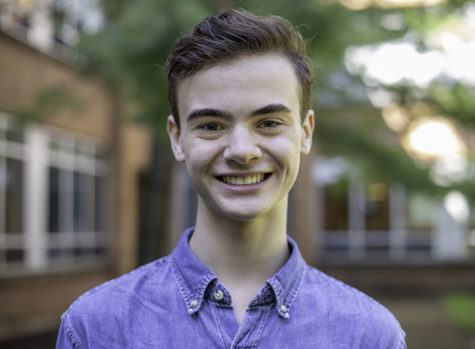 More stories from Jacob Casella
It is no secret that I have a unique voice. Anyone who has ever heard me speak, even once, can attest that I have one of the highest pitched voices at DGS.
My voice is not just high-pitched but also super nasally.

And it's amazing — I wouldn't trade it for anything.

Just kidding. That statement is a sappy and horrendous stretch. Having the voice of a woman is not amazing, but it's not bad. It's just what my voice is, plain and simple.

However, sometimes there are some little struggles. These mainly occur when I am not physically present, but my voice is heard.

A few months ago I did the morning announcements at DGS. I heard one person say, "Who was that 13-year-old girl on the announcements today?"

That one hurt a little.
"
I guess sometimes your twin absorbs all the testosterone in the womb."
Drive-thrus are my worst nightmare; I have PTSD stress dreams from them. At age 17 I really hoped they would stop calling "ma'am" after I order.
They didn't.

One time I went through a drive-thru while I was on a date. The fast food employee over the speaker naturally called me "ma'am" and I died a little inside. It was safe to say that I didn't expect to hear back from the person I was out with after that fiasco. (I didn't hear back.)

When I was a child, I always thought puberty was going to change the pitch of my voice. Newsflash — it didn't.

I have a twin brother. We looked identical, and our voices used to be the same, but when Griffin turned 12 his voice became different. I turned 12, 13, 14, 15, 16 and 17 and nothing happened.

I guess sometimes your twin absorbs all the testosterone in the womb.
Besides being high-pitched, nasally, and distinct; I am also very loud.
When combined, all of these things make for a voice that carries.

I would like to personally apologize to every student and teacher I have disrupted. I don't mean to be loud, it just happens. (Particularly to Mr. Haywood's 3rd Period AP Language class located right next door to the Blueprint office — I'm sorry.)

My voice is distinct: it's annoying and it's ridiculous. But it's a part of who I am.

I could learn to lower the pitch and the volume of my voice, but that would be one step towards silencing it.

And as everyone knows, I am always very loud.